On Monday 29th February, Google Premier SME partners, businesses, industry experts and thought leaders gathered at Google's St.Giles offices to share insights on what's new in e-commerce.
Creare were fortunate enough to be invited to the first Ignite event in Europe, and we have highlighted our key takeways from the day below:
Technology and the Global Economy
One of the key topics of the day focussed on advances in technology that will transform our lives, businesses and the global economy. The presentation focussed on findings from a report from the McKinsey Global Institute, which identified 12 emerging technologies which have the potential to reshape the way we think, work and live: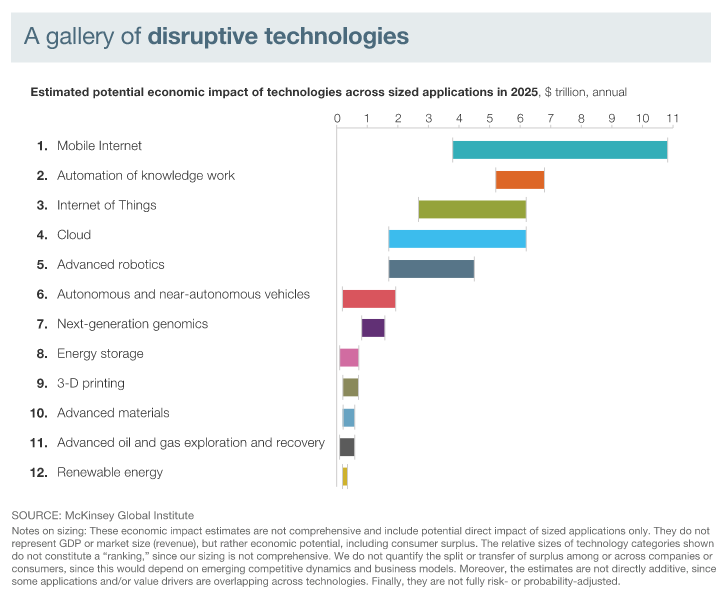 It is estimated that applications of these technologies could have a potential economic impact of $14 trillion to $33 trillion a year in 2025. Examples of the most influential technologies include:
Mobile internet: In just a few years, internet-enabled devices have gone from a luxury item for the few to a way of life for the masses, with more than one billion people owning smartphones and tablets. The mobile internet not only makes elements of our daily lives – like travelling – a lot easier, but also has applications within business, creating opportunities to improve the delivery of services and increase the productivity of the workforce.

Automation of knowledge work: Advances in artificial intelligence, machine learning and natural user interfaces (such as voice recognition) have meant that it is now possible to automate tasks that have long been regarded as impossible for machines to perform. Sophisticated machines can be used to replicate the talents of skilled employees, and as this increases it is possible that some job roles could become fully automated.
You can read McKinsey's study on Disruptive Technologies in full here.
Adwords Trends: Text and PLA are Better Together
When running paid adverts in Google, its important to consider all options available to you, and which combination will generate the best return – be it text adverts, product listing ads (PLA / Google Shopping) or re-marketing banners. The next presentation highlighted some interesting statistics around the success of Google Shopping campaigns when combined with text campaigns, as opposed to using this medium in isolation: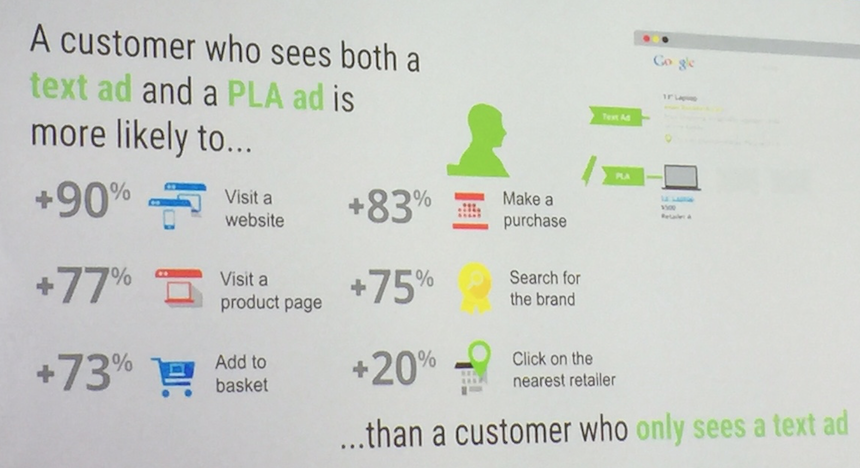 (Photo of a slide from the event)
Overall, the return on investment for companies running both campaigns simultaneously was higher than those only running text ads.
This also supports the theory that combining organic and paid campaigns can improve overall performance, as owning more real estate on the first page of Google results is a clear trust signal for customers.
More information about this topic can be found here.
Omnichannel: Think Like Macy's
With the competitive landscape of search changing daily, its more important than ever for companies to craft multi-channel campaigns that are able to capture customers with short attention spans at every possible opportunity. The video below shows how Macy's have adopted this approach in an intuitive way, to ensure a smooth path to purchase for their customers both online and offline:
Although Macy's is a huge company with big budgets, some of the key takeaways from this campaign can be utilised by smaller companies in inventive ways:
Consider how online supports offline, and how you can measure this. Your website might not necessarily drive a large number of sales, but if it is increasing the footfall in your stores it is worth investing in.
Clearly define your core customers and ensure you have a consistent presence across all devices they are likely to use.
Can you expose your in store inventory on your website to drive sales in your local stores?
Consider not only how omnichannel campaigns can improve your bottom line – but how they can provide the best customer experience to ensure they return.
Remember – it doesn't matter if your customer buys in store or online – along as they buy from you!
The Four Competitive Edges
The event was wrapped up with some clear direction for how to ensure your e-commerce campaigns remain competitive, in four key points:
1 – Multi-Channel – Understand your customers, be where they are and deliver a consistent experience. Your e-commerce website should be optimised for all devices and contain clear information about any physical stores you own as an additional route to purchase.
2 – Targeting – You are the best in your niche so communicate this clearly with your customers and go where they would expect you to be, focussing on multi-channel campaigns.
3 – Quality – Meet and exceed the expectations of your customers. Your communication needs to be clear and relevant – and make sure you ask for feedback so you are continually striving to be better for your customers.
4 – Service – Be available for your customers – on the phone, email, online chat. Ensure your delivery and customer service are outstanding. Making an initial investment to tie up the inventory in your stores and online can make this easier.
See what attendees thought of the Google Ignite event in the promotional video below: