Today sees the release of our latest free WordPress plugin, WP Be Right Back. It's a nice and simple plugin and more importantly, really easy to use!
So, what does the plugin do, I hear you ask…
WP Be Right Back is a plugin which when installed and activated, gives the ability to any logged-in user to view the website and to show any non logged-in user a holding page.
Pretty simple right!? There are a few added bells and whistles (which I'll talk about below), but nothing over the top or unnecessary which means a lightweight plugin with easy to manage options.
A few features…
SEO Friendly
The plugin is built in an SEO-friendly way meaning you can notify any search engine trying to crawl your website while it's temporarily offline and tell them when to re-visit. We do this with a 503 header status. You can read more about the 503 status here, but essentially we're just telling the search engine bots when to come back to the site. It just means that your website won't get cached with a holding page on it! By default, when the holding page is activated, there is a 503 header status, but an extra feature is that you can set a date when you estimate your website will be back online. This is then printed out as another 'header' and specifies the date search engine bots should return after.
Separate holding page activation
The plugin can be active but the holding page itself won't be. This means you can set up the 503 status date and also add a title, content & logo to the page before actually making the holding page live. If you're starting your website from scratch then this isn't too much of a big deal, but if your site is only going down temporarily for some maintenance, it means there won't be a blank holding page live whilst you're setting what the page should view! The plugin also has a pre-loaded default background image with content if you activate the holding page without adding any information!

Return date options
You have the option as to whether or not to set a return date which basically means when you will turn your holding page off and display your website again. Simply use the datepicker in the settings page to select a date in the future. By selecting a date, the holding will automatically generate an SEO friendly 503 status in the header of the website (which I mentioned earlier).
You can choose whether or not to show the return date on the front-end – simply tick the box as to whether you'd like it to show.

Customisable holding page
On the plugin settings page there is a section where you can customise the holding page. There is some default content on the holding page, but be sure to edit this in the back-end. You can see all the options available in the screenshot below: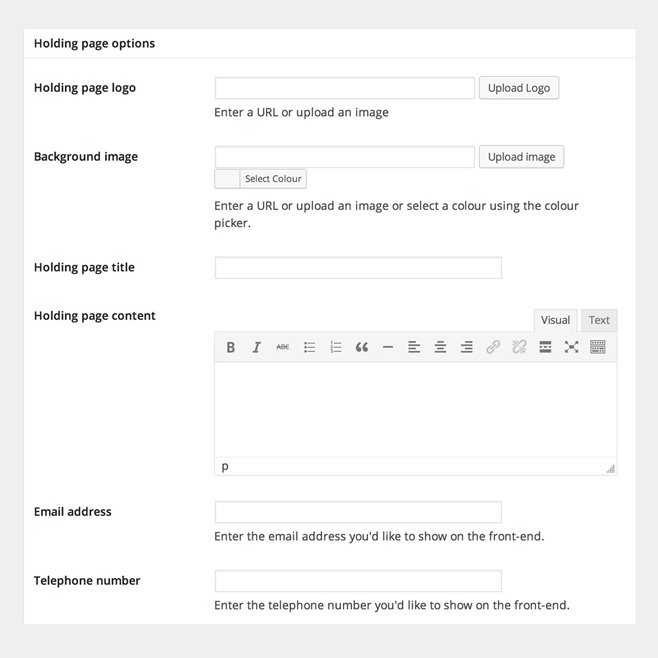 Of course, if you don't want to use that, you can customise all options! Here's a list of elements you can edit:
Page title
Page content
Show/hide date
Set an SEO friendly return status
Upload an background image or choose a solid colour background
Upload a logo
Phone number or email address
'Responsive' ready holding page
Your holding page can be accessed on all major devices (desktop, tablet and smartphone) and the content can be easily viewed. We don't serve different versions of the page to the browser, the content simply adapts for your viewport.
So next time you have to make any updates to your website don't forget about WP Be Right Back. You can download it here.
Please post any questions or comments below, or on the plugin page!