The UK is full of local companies desperate to do business with consumers in their local area, but how do you capitalise on this through SEO while still using good practice to future proof your business from Google updates and increased competition?

When it comes to local SEO it's not all that complicated. I'm going to focus on two main elements; the Technical and Offsite SEO. They breakdown into something like this:
Local Technical Checklist
Local Offsite Checklist
Local Technical
Landing Pages & Target Keywords
One of the questions I often get asked is "How many keywords can I optimise on a single landing page?". Although the answer isn't always black and white, there are a few simple rules to follow which will ensure you don't keyword cram or spam!
Only optimise related keywords on a landing page
Try and stick to two commercial intent keywords per page
Ideally each Area will have a dedicated page
For Example:Â If we had an example campaign for 'Nick's Electrical Services' we may optimise the following on a typical landing page:
Keyword 1: Electrician
Keyword 2: Electrical Services
Area: Rugby
URL Structure
If you are only optimising your site for one or two neighbouring towns, then URL structure probably isn't a concern. You can simple optimise your site without considering having Area's within your URI's. However some companies do have the need to have a presence in multiple areas, so with this in mind how do you structure your site to best benefit SEO?
For me there are two rules dependent on your domain name, we want to look as natural as possible and don't want to over optimise our URL's.
Rule 1: If you have a partial match domain name then you should consider naming your landing page with the Area name only.
For Example: If we stick with the 'Nick's Electrical Services' example and our domain was www.nickselectricalservices.co.uk we would want the our area landing page to be /Rugby or Rugby.html
http://www.nickselectricalservices.co.uk/rugby/
Rule 2: If you don't have a partial match domain name then you could consider including a keyword rich folder (try not to be too spammy) to add a silo structure to the site.
For Example:
http://www.nickselectricalservices.co.uk/electrician/rugby/Â then all your other landing pages which you wish to rank for electrician + Area can fit into the /electrician/ folder i.e /electrician/lutterworth or /electrician/market-harborough
Content & Keyword Density
We've all heard the expression 'Content is King' in the SEO world and probably 'latent semantic indexing' at some point when working in the SEO world, but what's important for Local SEO?
Well I don't believe much has changed. keep your keyword density modist for [exact] matches < 3-5% and ensure you include a range of synonyms that relate to your target keyword. For more info on synonyms check out Moz.com post. You can use the following tools  to help find related phrases:
As for Area's, we prefer to keep these refined as sometimes adding in nearby areas can either water down the focus or your landing page or conflict with other pages targeting the secondary areas mentioned.
Internal Linking
Internal linking is old school and dead, right? if we're talking about linking 'keywords' to every landing page from our site from every blog post we write then probably yes, but if you have multiple area landing pages then interlinking them is probably a good idea for 2 main reasons.
Usability – Imagine you a user landing on area specific page and then you navigate away to a different page on the site and have no reference to the previous page or area you originally searched, you would quickly lose trust in the site. So clear links to each area served for me, make usable sense.
SEO – Ensuring Google and other search engines are aware of which page you are targeting for a particular area or keyword is pretty vital, conflicting landing pages is often a contributing factor for search engine positions to jump around the listings. So to avoid this, re-enforce the correct landing pages with relevant internal linking, this doesn't always have to be [exact] match, but some keyword inclusion is worth considering.
Micro-Formatting Addresses
Most of you have probably heard of schema, rich snippets and micro-formatting data for the search engines to read. Google has also been so kind to create a tool for SEO's to use to check how the data will be displayed in the SERP http://www.google.com/webmasters/tools/richsnippets.
You can use mirco formatting to inform Google of lots of different data sets, but for local SEO we really want to ensure we embed our clients or our own registered company address to our sites. We want Google to know that our client or site is based in the areas we are targeting through SEO.
So how do we do it, simply use the following code:
An important note referenced later on in off-site under citations and NAP (Name, Address & Phone) is that in order feel the full benefit of a citation, your address has to match exactly to your micro-formatted information on your website & Google business page.
For more information on Local Schema check out the following: http://schema.org/LocalBusiness or use Google's awesome new tool to help you identify markup and it also provides you with the code for different elements if you highlight them on your site https://www.google.com/webmasters/markup-helper/. You may also find James Bavington's Local Business JSON-LD Schema Boilerplate helpful.
CRO Principles
There are several key items to include to maximise the conversion from your local SEO landing pages, these include:
Inclusion of the area in the page title to improve CTR (Click Through Rate) from the Search Engine Rankings.
Inclusion of the area in the URL structure, this is for both SEO (As mentioned above), but also to re-assure the user if the breadcrumb trail is displayed in the search results.
Inclusion of the area in the heading one, to help both Google and the user recognise the focus of the landing page.
Other items include:
Google places & map embed to highlight the companies exact location
Company address (Remember to embed with Micro-Formatting & NAP)
Other store locations – Internal linking opportunity
Reviews about the business, inclusion of widgets if possible to build trust
Branch manager – this can add some personality to your landing pages
Local image reference – You can use geosetter.de/en to set the location the image was taken from.
Technical Summary
Based on all the above, I created a simple JPEG of what an ideal local landing page would look like, including all the points above. He's one I made earlier..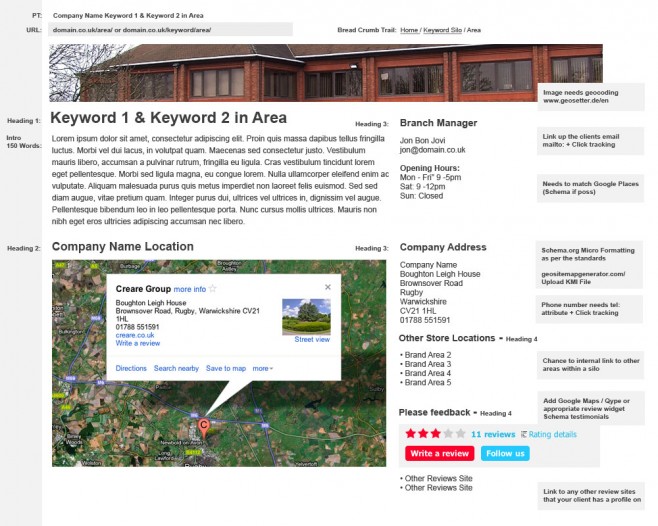 Local Offsite
So where do you build links for local SEO and which ones should you add your site to? David Mihm looks at several factors that can influence your local SEO campaign. If you haven't seen it already check out http://www.davidmihm.com/local-search-ranking-factors.shtml as he mentions a range of local SEO factors in great detail.
He also created the local search eco-system, highlighting a range of sites worth adding your local client or business to.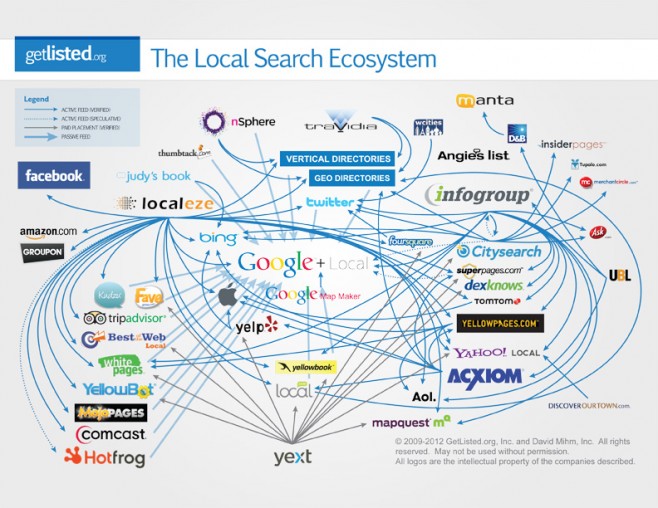 Review Sites
Their are several review sites that have great authority and will be beneficial to your SEO campaign, even if they don't provide a link. You should have heard of citations for local SEO by now, if not check out the next item on the list, some review sites provide a citation and not always a  direct link.
So what review sites should you use? Well here is our top 3 recommendations;
Citations
Lots of sites these days provide Name, Address and Phone (NAP) mentions without a link to your site, one example would be the free listing on yell.com. SEOmark sums it up nicely;
A citation is an online reference to your business's name, adddress and phone number (NAP). Like links to your website, Google uses them when evaluating the online authority of your business. Unlike links though, citations don't need to be linked to your business's website in order for you to be credited for them. So, having your NAP listed in plain text is fine.
Source:Â http://www.seomark.co.uk/local-seo-citations/#ixzz2Zx58j6Cp
It's important to note that to feel the full effect of a citation, you NAP needs to match exactly with your micro-formatted address on your site and your Google + page. There are several sites that can provide great citations, our top 3 recommendations are:
Local Sites
Once you have built a range of nice review sites and sites that provide some citations, you can now look at using some traditional link building techniques and outreaching to local sites in your businesses or clients area. Google will value these links extremely highly due to their relevance.
If your lucky you can in fact get some really nice free links as lots of sites are keen to promote local businesses, other of course you may have to pay for some advertising space. Personally for local SEO I like to build image adverts, linked from a single page with branded or semi-branded anchor text.
Some examples of a local sites:
Industry Directories
Unfortunately the majority of directories on the web in certain verticals have been spammed to death and no longer carry any benefit to improving your rankings with the SERP's. However if you look hard enough you can still find some decent ones, all you have to do is follow these rules:
Make sure the directory is relevant – the more niche the better.

Ensure the directory doesn't have a huge backlog of sites awaiting to be accepted, this is usually a sign that it have been identified by directory submission software.
Find the category or page your site will be listed on and ensure Google have indexed the page and ideally it carries a PR (Page Rank).
Finally, if possible contact the webmaster and build a relationship to ensure you get the best out of your listings.
How do you find good quality niche directories? Well, we use citation labs link prospector tool. You can specify the type of link your after and organise by DA (domain authority) or PA (page authority) and remove the lower quality stuff pretty quickly. Then you need sense check the remaining sites.
Social Media & Google Places
It's still pretty inconclusive whether a Facebook Page or Twitter A/C has an impression on your search listings regardless of the no. of friends or followers, but having an audience to engage with that could potential share, like and tweet your copy and ultimately lead to earning some links is of couse beneficial.
Google+ on the other hand, in my experience can actually improve rankings or at a minimum your position in the maps listings by ensuring proactivity across your account. Simple items like entering conversations, circles and hangout can improve your audience, while sharing topical blog posts, videos & info-graphics can help engagement and page presence. In the past we have found that rankings can be effected by activity on Google plus, but you have to maintain because as soon as your stop, your rankings can start to decrease as a result.
If you interested in looking at social from a ranking factor perspective, check out Moz.com latest ranking factors 2013. http://moz.com/blog/ranking-factors-2013
That's the basics, if you think I'm missing anything get in touch and I'll add to the post. Thank for reading