In 2013 I was approached by Packt Publications to write a short Magento book entitled 'Instant Magento Shipping How-To' for their new 'How-To' series. The following post is an account of how I was approached, the initial outline and the entire writing process from draft to publication.
I want to put it all on here for the following reasons:
Shamelessly plug my book on our own website
Show people how they too can find themselves being approached to write a publication
Share my experiences of planning, writing and formatting this particular book
The first thing I want to say is that my book is part of a series aimed at store owners – rather than developers or designers. The second thing I want to say is that this book is small – approximately 60 pages or so. So small in fact that the spine wasn't even wide enough to print my name on!
Gutted.
My name does appear on the front however, and to have a published book with your name on it (no matter how big the book is) is the one thing that all novice writers like myself dream about.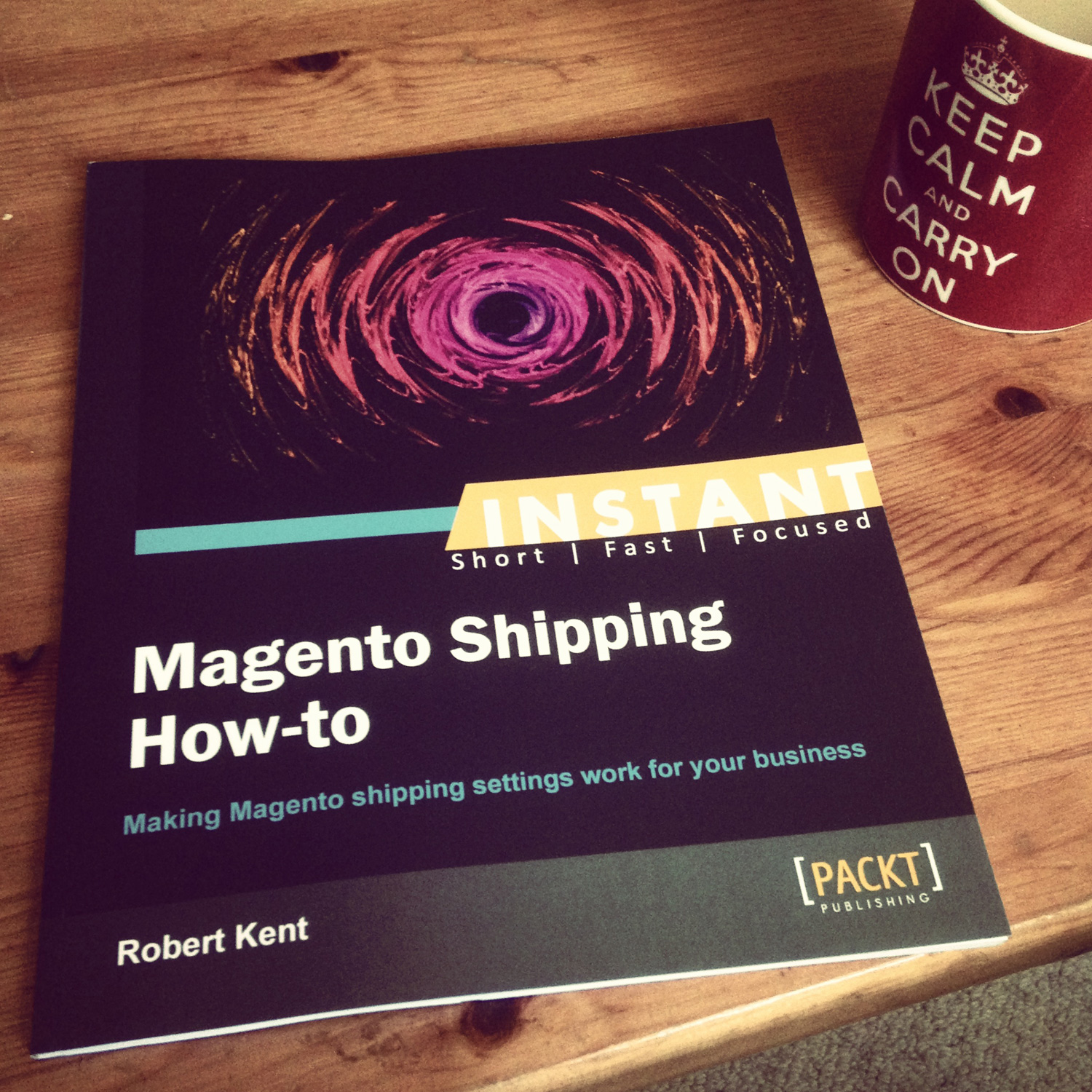 Being Approached
I was contacted through LinkedIn via our old blog.
In the old blog, Adam and I used to write about all things Magento or eCommerce related. Some of the posts go all the way back to 2009, back when we were relatively new to Magento and were blogging about little tips and tricks that helped us out of some of the difficult projects we used to be given. Some of it is actually still quite useful, but we've moved across now to our new home and have carried on our Magento Fox Blog but in a slightly updated format.
The old blog though, was how they found me, I had recently released an extension called "Creare Free Shipping Incentive" as well as a few other blog posts based on shipping rates configuration.
It just so happened that the publishers had a particular book that needed writing – the 'Instant Magento Shipping How-To' book and were trawling the internet for bloggers who had experience in that particular area of Magento. Thanks to these blog posts Packt found me, contacted me through LinkedIn and then later via email. They wondered whether I'd be interested in writing a short publication on Magento Shipping settings and whether I'd be up for writing an outline. I said yes.
The Outline
The first thing that I had to do was write my outline. An outline is really just a set of chapter titles and short bullet points listing the proposed content of each chapter. As this was my first publication I was quite naturally a little confused as to where to begin – thankfully the very nice people at Packt provided example templates for me – and also an idea of what content they were looking for. Things such as:
Setting up Tax Settings for Shipping
Setting up Shipping Promotions
This gave me enough of an idea to come up with 10 or so chapters as well as all the bullet points.
The next stage was submitting this outline. One thing to bear in mind is that, at this point, all the work I did was free of charge. I had not yet signed any contracts so I was writing this outline in my own time. Another thing to bear in mind is that my outline was not the only one being submitted, it was, in effect, a bidding war. My outline was judged alongside other potential authors – the best outline winning the contract.
I'd like to think that mine was picked out of thousands of potential candidates (but I'm pretty sure it was only a few).
Once the outline was agreed they sent over the contracts for me to sign and then the ball was officially rolling.
Other Documents
There are plenty of other documents that you need to fill out – not just the actual content of the book.
Author Contract
Feedback forms (for each stage of the process)
Cover Information (the title, the back-page description, sub-title etc)
Authors Note (the 'About the Author' section on the website and in the book)
Once all the contracts were signed it was time to get stuck into the content of the book.
Draft Chapters
Each chapter consisted of around 5 or 6 different topics or "recipes" – the entire book was split into two chapters and I was given a deadline for each one.
To get the first draft one back to them I was given around a month. This seemed plenty of time at the start but one thing to mention is that once Packt had gone through the chapter and sent back their comments the turn-around time was usually only a day or two. Being at work 8:30-6pm almost every day meant that I really only had a couple of hours to turn these around for them – as I chose to only work on this book in my own time.
Formatting & Editing
Being entirely new to the publication process one thing that struck me as incredibly frustrating (though I can kind of see why some people like it) was formatting the document.
Each and every element required different formatting styles within Microsoft Word. Thankfully Packt supplied me with the templates that I could use and so it really was just a case of highlighting and clicking on the appropriate style to make the change.
To give you a couple of examples of individual styling for elements each one of these required separate styles:
Bullet points
End bullet points (the last one in a list – slightly less margin?)
URLs
Screen-text (text read off the screen – e.g. Minimum Shipping Amount)
As you can probably guess – when describing how to configure Magento settings there is a lot of Screen-text that is being quoted – and therefore a lot of screen-text formatting.
Once all of the formatting was complete, the book was submitted to a couple of industry experts whose job it was to appraise the content. These were normally other authors for Packt who also have experience in Magento. It was their job to go through and make sure that the content was technically sound as well as fitting for the appropriate audience.
The feedback given within this section was vital, it enabled me to keep the direction of the content in-line with the target audience – Magento store owners. Their names and bio's are printed in the first few pages of the book.
Proof-reading & Prefinals
The proof-reading stage and pre-final checks are essentially the final tweaks before a book is sent to the printers. It's the last chance to fix any spelling mistakes / typos and any other formatting issues. Keeping Microsoft Word "Revisions" on, myself, the editors and a couple of other proof-readers managed to clean up all the mistakes – mistakes that I couldn't really remember making when I wrote them down in the draft stages.
To be honest, once you've reached this stage it's really hard to focus on the content of the book and give it a good proof-reading session yourself. That's why it's so important to have other people around you who can proof-read the copy for you.
Publication
Once the pre-finals were submitted the book was sent to the publishers. A last double-check of the cover design (didn't choose this myself), the cover text and a full PDF copy of the book and it was all down to me to sign-off.
A couple of days later the book was sent off to the printers. A week or so after, it was available to buy on Amazon.
Obviously the first person to purchase a copy was myself – unfortunately the book first came out on Amazon.com – and I had to wait 3 weeks for it to be delivered!
The entire process, from accepting the contract through to publication had taken approximately 12 weeks.
Overall
I can honestly say that as a first-time author I was more than a little intimidated about writing a book about Magento. There were obviously hundreds of people in the industry with a deeper understanding about the topic than I, so how could I justify writing a reference manual for store owners? I'm not even a store owner myself – I'm a developer!
Well, the truth is that if I wasn't intimidated I probably wouldn't have spent night after night learning everything I could about the Magento shipping process, researching the difference between Order states and Order statuses – 'putting the time in' so to speak – and I'm so glad I did – I would never have been able to complete it to deadline otherwise.
It was one-hell of a learning experience and a challenge that I'm now extremely glad I accepted. The nice people at Packt were with me every step of the way and made what seemed to be such a daunting process – relatively easy.
What's Next?
A couple of weeks ago I was contacted by Packt and they had picked me out once more to write another short book, this time about Magento SEO (again they provided the topic). Packt accepted my outline and I've now signed the contacts.
The deadline for this book is December, I anticipate lots of late nights and tons and tons of research – as again, I want to do the topic justice.
Update: My new Magento SEO book is now live and kicking – published on 15th January 2014.