As a PPC account manager at an agency that offers a full range of online marketing solutions, for a few years now I've been bemused as to why more of our clients aren't using PPC as part of their search marketing strategy.
Over time I've come across many different objections to PPC advertising from clients, ranging from having strong organic listings thus not needing PPC to not being prepared to pay for traffic. For every objection though, I feel there is a very good counter argument.
I'd even go as far as saying considering the recent state of SERPs [especially Google] some of the ongoing arguments between organic optimisation and paid have effectively been won by PPC.
The following paragraphs therefore are a result of me pondering the plus points of PPC in the current climate and if I was a website owner, the reasons I would be using it.
Guaranteed top of page 1 exposure!

Have you seen Google's search results recently? For some searches the top organic listing only just peeps above the fold, meaning almost all of the real estate before you scroll down are paid results & its even worse on mobile searches.
This means if you're not ranking position 1 or 2 organically for a search there is a good chance now your listing is appearing below the fold for the majority of your results. We all the know the difference that can make, that's why when you design a website you place items of importance above the fold as otherwise there is a good chance they won't be seen. The same applies to the search results meaning your listing can be on page 1 but you may not get that much traffic from it.
The nature of organic listings has also become a lot more volatile in recent years with penalties galore available to those who step outside of Google's ever evolving criteria. Years worth of hard work can be lost overnight with one wrong call and all search traffic with it. For businesses where the main source of income is online it can be like the entire business rests on a Mountain View knife-edge and could fall with the next algorithmic change.
PPC offers a way to ensure your ads/products appear at the top of page 1 of Google for as much or as little time as you like [within budget & bid restrictions]. You can use it to drive traffic to your site while your rankings are building or in the event of being hit by a penalty. You can also use it in conjunction with an organic strategy thus enabling your site to be eligible to receive traffic from 100% of Google users.
Ad formats to suit all needs

PPC advertising is a lot more than just text adverts nowadays and pretty much has an option for all needs. If you're an e-commerce store you're really missing a trick if you aren't using Google Shopping by now.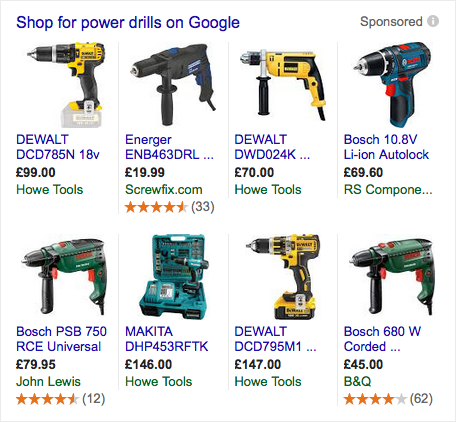 Known in the industry as product listing adverts these ads comprise of your product image and price along with a promotional message. The ads only show on product specific searches and as they feature key purchase information [what the product looks like and the price] any clicks coming to the site are pre-qualified and more likely to convert. This is because if the searcher didn't like the look of your product or the price is too much/too little, then they are less likely to click on your ad.
This is an advantage over text adverts for advertisers as key purchase information, such as what the product looks like and how much, usually isn't learnt by the searcher until after the click.
Other advantages of Google Shopping ads is the cost per click can be considerably cheaper than a text advert on the same search and the ads always appear at the top of SERPs.
The ability to remarket via PPC has also improved massively over the last couple of years via Adwords. There are now 3 types of remarketing available, display, search and dynamic.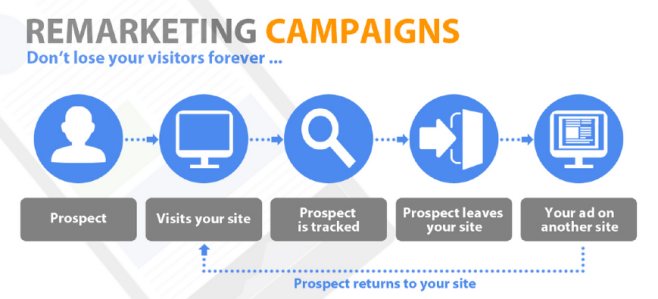 Remarketing effectively involves building a list of past visitors to your site and then targeting them with different advertising messages in order to encourage them to come back to use/purchase from your site in the future. Its works particularly well for products/services that have a longer buying cycle, as it prevents perspective buyers from forgetting about your company or its USPs.
Display re-marketing allows you to use text and, perhaps more effectively, image and animated ads to re-market to people visiting any of the 4 billion sites with Google advertising on them.
Search remarketing allows you to display ads with a different message to past site visitors who have left your site and continued to search for products/services related to your site on Google.
Dynamic remarketing ties in with your Google shopping ads and allows you to remarket to past site visitors based on the specific products they have viewed on your site. The remarketing ads you can use even offer closely related products incase the initial product they viewed wasn't quite right but you have others that are.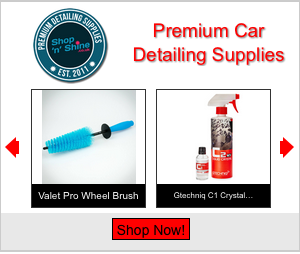 There is even an option now to run call only ads that do exactly as they say on the tin. Don't want to pay for clicks to your website but want to appear at the top of Google and receive calls as a result, these are the ads for you. If you're a locksmith or a plumber, people don't need to visit your site, they just need your service, so these are a great way to ensure you receive the call and not your competitor!
Image adverts have been an option for a while but nowadays you can choose to place them all over the Google display network if brand exposure is the goal, or pick and choose where they appear if you want relevant traffic. You can also have your ads appear on YouTube when people are watching relevant videos. Video adverts on YouTube are also controlled via Adwords on a cost per view basis!
Good old text adverts where you can tie which ads appear to a specific keyword on Google's search results have even evolved over the years with the ability to add your phone number, premises locations, links to other pages on your site, additional USPs, reviews and service lists to your ads meaning your once small easily missed text advert can impart a whole world of information to a searcher before they have cost you a click.
Best In Class Reporting

PPC reporting is great, you can pretty much find out anything you want, which can't be said for other sources of traffic to your site. Want to know anything about when and where your ads appeared and how much this cost you? You can divvy this information up a thousand ways and make informed decisions moving forward. You can even track phone calls via PPC for free now meaning you can see the whole picture of what its brought to your site.
Reporting in analytics for PPC is also much better than other traffic mediums. For example the organic reports won't tell you the majority of keywords visitors have come to the site via due to privacy rules. How are you supposed to make correct decisions without knowing all of the information?
No such issue for paid traffic, there isn't any hidden keyword data and you can easily dissect this data and follow the actions of paid traffic via the site at a granular level.
With improved information comes better decisions and with improved decisions comes higher performance and results.
The Wrap Up
So incase you've only skim read this post or have scrolled straight to the bottom just to get the gist, I am going to quickly summarise the point I am trying to make.
Organic search has become unpredictable and Google seems to be favouring paid search at present with the amount of above-the-fold real estate on search results they are giving to PPC. Also with the regularity they move the goal posts of organic ranking via penalties and algorithmic change.
PPC offers that many different ad formats nowadays there is surely one type you can use to improve or supplement you online marketing strategy.
Finally, once you are using PPC, the increased amount of data you can gain about your campaign means you can make better decisions, which ultimately lead to your business doing better.
When you sit there and digest that you'll agree. If you're not using PPC by now you should be!