On 18th September, the Creare team headed south for one of the biggest events in search marketers' calendars: BrightonSEO!
As a first time attendee, I have compiled my round up of the event that brings together some of the best speakers in the world of search and the industry's finest SEO crowd:
KEY TAKEAWAYS
Don't preoccupy yourself too much on pleasing 'the media' and fussing over formats – your customer IS the media! Focus efforts on learning as much as you can about them, the content they respond well to, the pages they are viewing on your site, and focus your strategy around that. If you provide a great experience on your site your customers are likely to return, your click through rate will increase and in turn so will your conversions. Using tools like SimilarWeb can help you drill down into the interests of your audiences.
Local SEO has national relevancy too – if your company has a physical location, there are likely to be locally based customers searching for you – and Google is becoming ever more local.
Think logically when using tools like Google Suggest – for example, if you are looking to optimise for video content, start typing your keyword into Google video search instead of the standard search box to generate more relevant suggestions.
Minimise wastage by segmenting your audiences based on their interactions on your site, to define high and low quality visitors. Establish the actions a high quality visitor would take and the path to these actions, and create remarketing lists based on this to target these customers.
FAVOURITE SPEAKER OF THE DAY
Dave Trott closed the day with a brilliant talk that stripped everything back and prompted us all to look away from our devices and focus on the customers we are trying to target. He highlighted the fact that as digital marketers we can often become so wrapped up in the content, format and devices we are using that we forget the whole purpose of what we are ultimately trying to do – effectively communicate with our customers. This 'dinosaur thinking' as he called it was really refreshing, as it was great to sit and listen to a traditional marketer apply simple concepts to an often over complicated marketing process.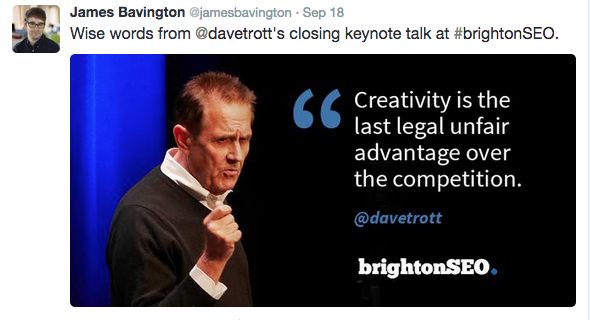 QUOTE OF THE DAY
'Any business with a physical location or that serves customers in a specific area absolutely needs Local SEO.'
Greg Gifford, 'Local SEO – A Seriously Awesome Blueprint'
SUMMARISE WHAT YOU HAVE LEARNT AT BRIGHTON SEO IN 5 WORDS
Succeed By Keeping It Simple!
ROUND-UP OF THE BEST TALKS OF THE DAY
Greg Gifford:Â Local SEO – A Seriously Awesome Blueprint
After a three hour train journey, Greg Gifford injected some much needed energy into the day with his quick-fire-movie-reference-filled presentation on Local SEO, containing some great insights into how to run an effective local SEO campaign to increase footfall to your business.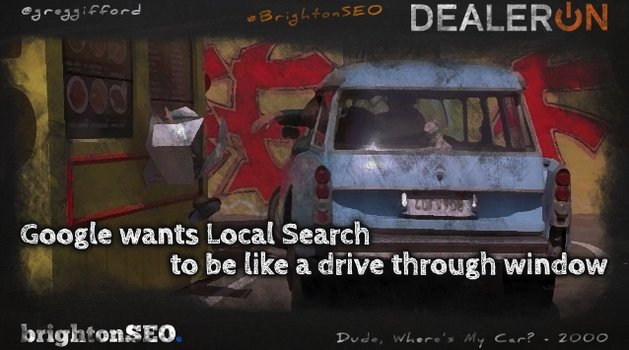 Check out his full presentation here.
Pippa Moyle:Â Merging your business into the 24 hour news cycle
Pippa discussed how being responsive to the latest news can help businesses amplify their content by piggyback on trending topics. She gave some great examples of this, such as Carlsberg's response to the controversial 'Beach Body Ready' campaign by Protein World: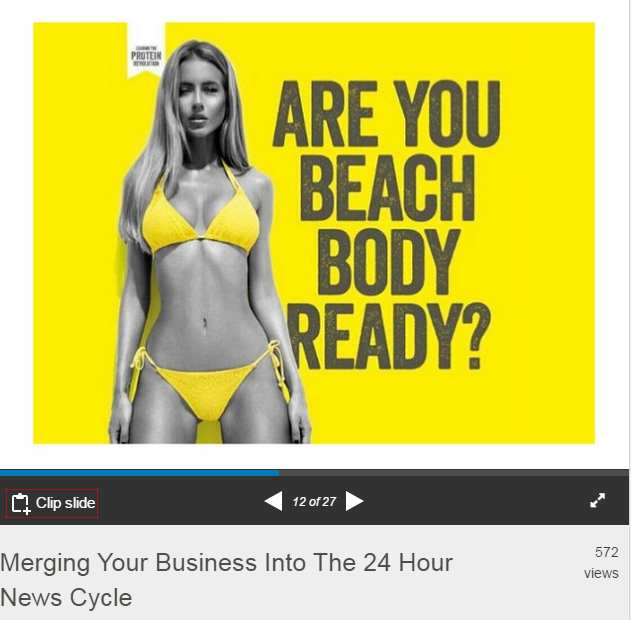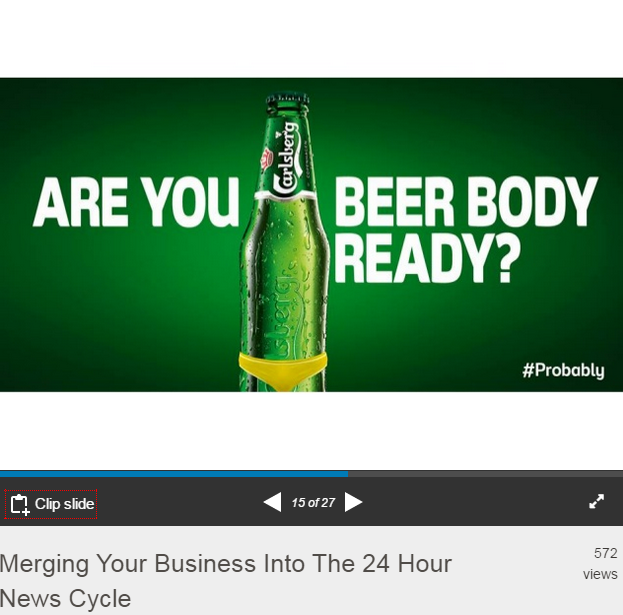 She also pointed out that the response doesn't have to be instantaneous, but creative content posted a week or two after the initial buzz can actually create a second wave of interest amongst consumers.
Gianluca Fiorelli:Â An actionable guide to modern keyword and topical research
Gianluca gave some great practical insights into how to make the most of your keyword research – applying more of a logical thought process to tools like Google Trends, AdWords Keyword Planner and Google Suggest to better understand the markets you are targeting.
He gave a great example using Keyword Planner – instead of analysing your website, use the URL of a site which is already ranking well and you know contains great content – for better qualified ad group/ keyword ideas.
Visit Slideshare to have a read through some of the brilliant presentations from BrightonSEO.
Featured image source: Wikipedia