If you're a specialist – whether that's in content, design, coding or anything to do with the realm of online marketing – writing with clients in mind can be tricky.
Today I'll discuss writing for your client's not your colleagues – something that's not as simple as you may think;
KP 'I don't have a clue what you mean'?
We work in an industry where acronyms are second nature; here's a short list those we hear around us on a daily basis –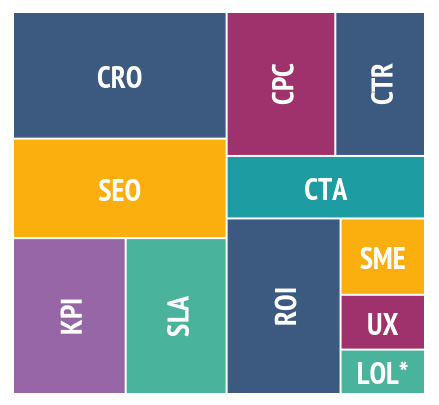 Speak With Visuals
You can appreciate how this can be frustrating for our clients especially as they can be so easily misunderstood (my mum told me the medical industry avoids them at all costs and she's a nurse so would definitely know).
Whether it's coding, using WordPress, embedding content, updating Google+ or anything that could be 'deemed' technical, curb your words and show them instead – My Boiler Service is the perfect example of how to help a reader in need.
Some formats you can choose from are;
Videos
Infographics
Photos
Voiceover Walkthroughs
So go on, help a non-techie and make a video.
Everyone Loves a Freebie
Connecting with my point above, give something back to your devoted reader.
Downloads bring a reader back for more as they are getting valuable information and don't need to keep visiting your website to get it.
Checklists
Step-by Step Instructions
Images
All of these are perfect for zipping up into a downloadable PDF and offering to your client as a takeaway.
Short, Sweet and Social
If you're passionate about a topic, you'll read a whitepaper that would rival the word count of Tolkien's master pieces.
But remember, your client may not be that in to it.
If you're choosing to write a blog post on a subject then keep your points concise and don't forget to share it on your social platforms.
140 characters can say a lot if used wisely, so intrigue your customers, rather than focusing on the knowledge hungry techies.
These are my top tips on writing for clients – if you think anything has been missed then add to the post in the comments section, but please be kind!
*(or not, if there's an algorithm update pending.)