Google+ is like the kid at school that always slipped under the radar but grew up to become a high flying entrepreneur with 22 houses, eight Lamborghinis and their own private island.
It's no secret that Google+ has a reputation of being a bit of a ghost town, when in actual fact it's the hidden gem of the social arena – you just need to know how to harness its power!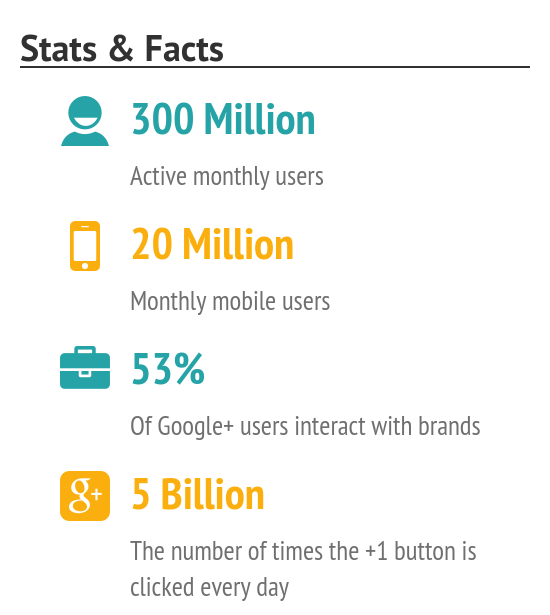 Why Do I Need Google+?
As Digital Marketers, we've spent many an hour explaining the importance of Google+ to colleagues and clients alike. How and why it's an essential tool to aiding an SEO campaign and, personally, we think we've got it down to a fine art! First you need to give your clients a better understanding of the social network and how it can impact an SEO campaign before proving its power by showcasing the results.
Here's what your clients need to know in order to better understand Google+ as a social media platform and its role as a key ingredient to a successful digital marketing campaign:
The Link Between Google+ & SEO:
Making sense of the link between the two is the first step to understanding the importance of Google+ for business. It has a unique marketing advantage that puts it head and shoulders above the rest – it can have a direct impact on SEO rankings.
Compared to other social channels, Google +1s have the highest correlation with Google search rankings – higher than Facebook Likes and Shares, higher than any form of Twitter engagement. Searchmetrics backs this up by saying that, although Google maintains that it doesn't use +1s as a ranking factor, their data shows a positive correlation between social signals and rankings. Moz has also reported that, aside from Page Authority, the number of +1s a website has is more highly correlated with search rankings that any other factor.
Posts are Indexed Really Fast!
Google's algorithm indexes posts shared on Google+ almost immediately. Although a recent deal between Twitter and Google will mean that Tweets will soon be more prominent in searches; currently, content on Google+ will show up in search results quicker than it will from any other social network. In some instances, content from G+ will be indexed faster than the content on a website!
Why You Need to Care About Google Reviews:
Firstly, Google displays its own content first. So it makes sense that businesses with Google+ pages are more likely to rank higher than those who don't. However, businesses need a minimum of five reviews in order for their Google Place for business to show up in search: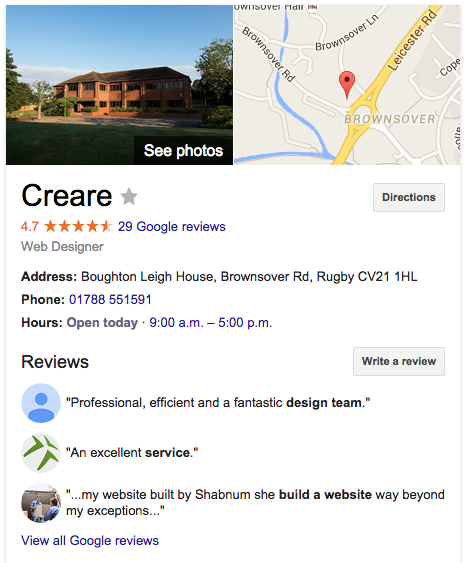 A business's Google Place will not only put them in a better position in terms of Google it also shows clear trust indicators for potential customers. Using Creare as an example above, you can immediately see our user ratings and the number of reviews we have. Remember, positive reviews generate a bigger boost in terms of conversion rates than any other local SEO effort.
Proving the Power of Google+:
Once you've gained the understanding of this platform from your clients, the next step is to show them its worth. The Insights within the Google+ Dashboard is a fantastic way of showing your clients exactly what the G+ page is generating for them on a weekly / monthly basis.
Insights is really easy to navigate around, and although you can't customise dates and times like you can with Google Analytics it's fantastic at breaking down information and showing exactly where interaction, engagement and growth comes from.
Demonstrating Results from a New Campaign:
With any social media campaign, we know that in the first few months the focus should be on building the page and populating it with great content and strong graphics before shifting the attention to increasing engagement and audience interaction. With this in mind, when a campaign is in its infancy we will mostly track the results from the 'visibility' section of the Insights.
Starting with the views, this will give you an all time total as well as breaking it down into views through search, directly to the page as well as post and photo views.

With this example you can see that there has been 114 visits to the page, compared with over 5,000 views of posts and photos. This suggests that Google is indexing the content quickly, providing a much larger outreach potential and also allowing a business to build their brand quicker.
You can also demonstrate where clicks have come from in the past month and what this has generated for the client:

This is where things can get interesting – you can show what leads have been generated from the page in terms of the click-to-call function and the driving directions request option. As the page builds and collects more data the Insights will give a more indepth look into phone calls and driving directions, allowing you to pinpoint busy periods, down to the day and the hour.
This is just a small piece of the Google+ puzzle, as part of the social team it's the channel we're keeping tabs on and watching very closely. As you may be aware, Google have recently revealed they will be changing Google+ in order to create a more 'focused experience'. Mandatory Google+ account creation will be a thing of the past and new features will be added such as G+ Collections, where users will be able to organise and enjoy posts better – all set to make engaging your customers almost limitless.
As our research progresses we'll reveal more of our findings. In the meantime, if you have any advice for other digital marketers or you have questions for us please share your thoughts in the comments section below.