Last Thursday my brother and I attended the sixth MK Geek Night. Hosted at The Buszby in Milton Keynes, MKGN is a free mini-conference for creatives that usually happens on a Thursday evening every three months.
Having been to the third and fourth MK Geek Nights, I really wanted to get into the habit of recording my notes in a mini-write-up after attending last week. Not only does MKGN host great speakers from varying experiences and backgrounds – it's also a place to meet and share experiences with like-minded designers and techs from the industry.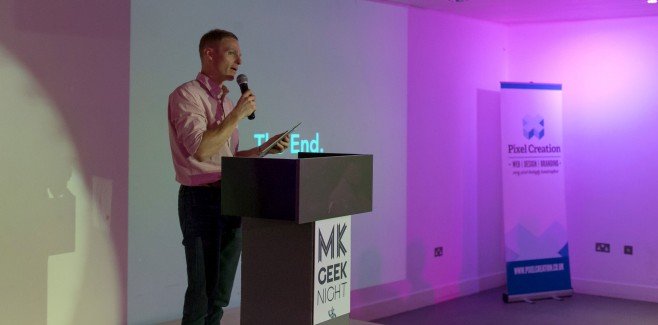 Drew McLellan "Back to Front Website Performance"
2013 has seen quite a buzz around website performance and page speed. Drew McLellan's talk refreshingly centred on the often-overlooked 'back-end' aspect of website performance.
Website Performance isn't a problem – it's a feature.
Google measures page-speed and it's part of their algorithm.
Pay attention to Steve Souders. Previously a performance expert at Yahoo, Steve now works at Google as a speed-guru.
Back-end website performance varies under load. Front-end performance doesn't.
Cheap hosting is expensive! Designers can spent time in vain speeding up their websites only to load them onto cheap, slow shared hosting.
Use the best hosting you (or your client) can afford, not the cheapest you can get away with!
Drew's talk was my favourite of the evening. Often developers (myself included) focus too much on front-end performance optimisation without scrutinising and considering the back-end and hosting.
Christian Senior "Managing Client Expectation"
The first of the 5-minute talks was by freelance web designer/developer Christian Senior. Christian shared some all-to-familiar insight into managing the ever-increasing expectations of clients.
At the first encounter, find out as much as you can about the project and their expectations.
Find out what browser your client uses to ensure you've browser-tested any previews you send them.
Take the time to add as much detail as you possibly can to your specifications.
You can listen to Christian's talk here.
Ben Foxhall "The Other Side of Responsive"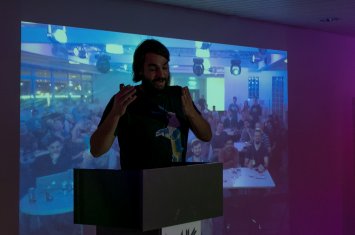 The second 5-minute speaker was Ben Foxhall. During is talk, Ben explained how Responsive Web Design is such an amazing platform for cross-device interface design.
Being completely honest, I can't remember everything Ben said because his zero-cool-esq presentation blew my mind. I'm listen back to Ben's talk over on Sound Cloud.
Tom Underhill "Work In Progress"
The last of the mini-talks was by designer and illustrator Tom Underhill. Tom gave an interesting overview on his experiences as a brand, UX and character designer. You can listen to Tom's talk over on Sound Cloud.
Paul Lloyd "Fear, Uncertainty and Doubt"
The final headline speaker was Clearleft's Paul Lloyd. I was looking forward to Paul's talk after his interesting presentation at Responsive Day Out earlier this year. Rather than a technical talk, Paul shared his eye-opening observations and concerns about the Silicon Valley-based web services we all use on a daily basis. You can now listen to Paul's talk over on Sound Cloud. Paul has kindly uploaded his slides onto Speakerdeck.