As you may have seen from our previous news posts, we at Creare never miss the opportunity to expand our knowledge. This time, 3 members from the SEO department headed down to London to attend the bi-annual conference The Content Marketing Show ran flawlessly by Kelvin Newman.
The day began with an early start for myself (Jenny Pilley), Jenni Griffiths (Acc Exec) & John Rooney (Content Marketer), getting to the train station & flowing conversations on the 2hr journey consisting of a debate of Android vs Apple, my obsession with the 1940's & Jenni's horrendous boat journey in Thailand.
Once arrived, we swiftly made our way to the venue (with thanks to John's excellent map reading skills & elephant like memory), and settled down, caffeine fuelled drinks in hand to enjoy what turned out to be a very informative conference indeed.
We obviously arrived with goals in mind, but we took away much more than we hoped. So here are our Top 10 takeaways –
1. Know Your Client's Audience
It's something that we know already here at Creare – whether it's our designers, developers or Content Writers. But what was different with this was actually being informed on how to get this information;
Hannah Smith; Content Strategist @ Distilled spoke in her presentation entitled; "Throwing s*** against the wall & analysing what sticks…" about understanding personas & researching your client's audience.
She discussed focus groups and the key questions that should be asked are;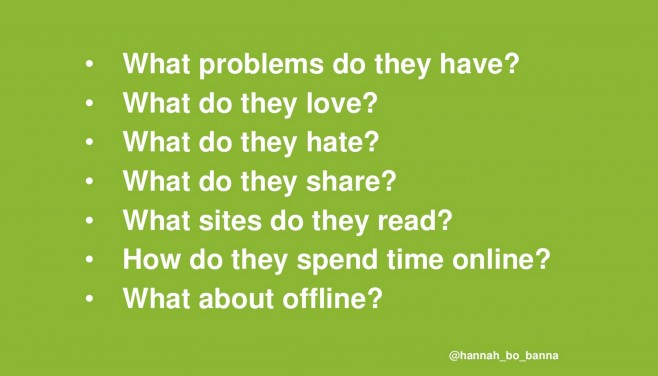 By knowing this you can tailor your content to suit and reach out to those people who will actually engage, purchase, enquire & interact with your website.
The second key message was how to get this information on a consistent basis. As we have encountered, companies change, grow (hopefully) and their aims and objectives evolve. The difficulty is being able to get this information regarding industry / company changes directly from the client.
Tom Elgar from Passle, discussed his software which aimed to bridge the gap of client & content writers together.
He discussed the common issues of companies having lack of time to update their blog, but agencies or freelancers not having enough insider information to create in-depth and expert pieces. His software gives the ability for companies & agencies to work together to produce a successful content for the long term.
Finally, Kieran Flanagan discussed audience within this presentation – 'Inbound Marketing – The Art of Not Sucking' using examples such as Marketing Mary, Owner Olli & Enterprise Erin as excellent examples – read here: http://www.slideshare.net/kflanagan/inbound-marketing-the-art-of-not-sucking-the-content-marketing-show
2. Differences between Content Strategy & Content Marketing
The second talk of the day was on 'Why Content Needs a Strategy' by Lauren Pope. The biggest take-away was understanding the differences between content strategy & content marketing;
Strategy – "Plans for creation, publication & governance of useful & usable content" – User Focused
Marketing – "Creating & distributing valuable content" – Business focused.
Strategy is the HOW of content – how it'll be written, distributed, shared.
Marketing is the WHAT of content – what will be created, what is the purpose, what do we want to achieve?
There were 6 main elements of strategy all beginning with P;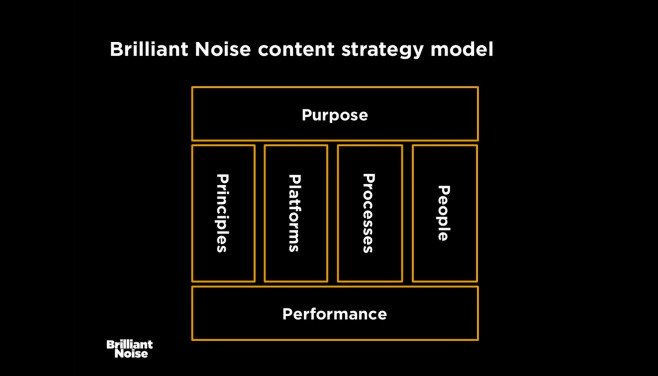 One last focus on this was that a Content Strategy takes time to implement so it requires taking one step at a time until it's correct.
3. Effectively measuring success & failures of Content
This refers back to the talk given by Hannah Smith who discussed in detail about analysing content that works and that which is to never be repeated.
Pick battles – if there is no need to do it, then don't. If there is no appetite to entertain nor persuade first.
Recognise pitfalls / stumbling blocks – don't waste time & effort by not addressing issues
Make your content reach further & prove your worth by:

Ensuring your social share buttons work

Retarget pixels on all content
Test paid promotion outlets
Plan to fail
Agree what success looks like – (see point 9)
Share learning so review both success & failures to prevent repeating the same mistake.
4. Content isn't King – Connection is!
The speaker, Fergus Parker, discussed in his talk 'Trend Watch – 2014 & Beyond' about the controversial notion that the Content is no Longer King.
His explanation discussed the most successful content marketing is one that comprised of QUALITY, CONNECTION & CONTEXT, that also comprised of a lot of facts and figures.
Parker's theory abandoned the notion that Content is still King but in fact:
Content is the Kingdom – everything needs content it beholds everything.
Connection is the King – without connection content cannot be found.
Context is Queen – how you want people to convey your message is crucial to gaining success from it.
5. How Short form content should support Long form
An interesting talk from Sarah Howard at Red Rocket Media 'Don't forget about Long Form Content' focused on the pro's of longer pieces of content which included;
There is more time for long content with the use of mobile internet
In depth pieces reflect expertise
Creates a bond with your readers that often shorter pieces don't
Provides Sales Funnel Support
It's shareable
Still search friendly
She also provided '5 Top Tips' to creating Long form which can be found here;
There are 5 of the top 10 Take-aways- Â come back tomorrow where the final 5 will be revealed!