Last Friday I was lucky enough to pick myself up a ticket for the 2016 Search Awards Conference. This annual event is a great way to get hints and tips from the winner of the 2015 Search Awards as well as a selection of the judging panel.
This really is an integral event for anyone looking to network with other agencies and more so if you're looking to enter the Search Awards there isn't a better forum to hear from the judges mouth exactly what they're looking for. So in the interest of impressing the judges from the get go i'm going to be succinct in providing you with the feedback from the judges panel right at the start of this post, if you're interested in learning more on this great event then read on further, otherwise it's been a pleasure and enjoy the secrets of winning the UK Search Awards.
Originality is massive, be bold and make something unique and new, the judges are big on innovation!
Look at things from a different perspective, express your passion and think outside the box and be creative!
The fundamentals are important, execute something simple very well and make sure it has longevity.
Be succinct and clear, get your point across quickly and shout about your successes early on, why is your entry so good? Don't make the judges work for the answer.
Always match your objectives with your results in a well structured and thought out entry that gives the judges all the pieces of the puzzle. Don't just say "we did PPC and SEO."
Have great metrics for success and backup results with evidence and tangible figures. Show your challenges and how you overcame them.
Now let's get onto the event itself, i turned up to the current Microsoft office a few minutes early and as you can imagine the office of a global computing brand was pretty slick! Needless to say i was impressed.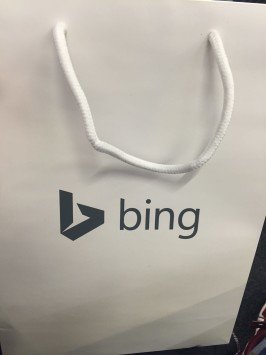 After receiving my Bing goodie bag (which had an awesome Bing notepad, pen, camera phone lens & a small box of chocolates) i got down to of the main reasons i found the conference so great, Networking, after meeting a number of people from the lobby and around the table of the conference we got into the talks.
So after a great introduction from Milka Kramer, UK Search Director for Microsoft we had a brilliant talk from Tor Thompson, regional director for Bing. Tor talked us through some interesting insights from Bing, including how Bing has evolved along with huge "Tectonic shifts in search" semantic search and device mobility being just two of these. Another interesting insight we received from Tor before her key predictions for 2016 was the timeframe of highest conversions in Bing ads, 6pm – 9pm being the highest converting time for people advertising on bing ads, useful if you're planning on delving into Bing ads.
Tors predictions for 2016 were;
Think Person as well as the query
Think people not text input
Keywords aren't dead, they allow you to expand your audience reach
After Tor's great talk we were onto our first of the winners from the 2015 UK search awards.
Joel Turner is operations director from Blueclaw, Joel kicked off with some great insights into how the team at Blueclaw decide on a piece of content and gave the whole audience a great insight into the Blueclaw teams process.
Firstly Joels three golden rules of content marketing were
What's the Hook?
What are we offering?
Has it got Longevity?
A brilliant set of questions to ask of any content piece for any client, stops pieces going part way down the development process before grinding to a halt! Joel also talked through the process of chunking, which you can learn more about here
To see the piece that won Joel and his team the award in 2015 see it here.
Georgina Gallop then gave talked us through the strategy and success of money super markets #epicstrut campaign, the most interesting part for me was their use of digital prior to the more traditional forms of marketing. This was shown by the launch of the #epicstrut adverts on Facebook 10 hours before TV! 5 hours before on Youtube this was Georgina's plan after she mentioned that they had seen a 15% drop in TV consumption across all demographics.
The moneysupermarket team also developed additional content the dance routine videos (ADD LINK), this helped to increase the longevity of the content strategy. With Brand awareness the main success metric of the campaign they certainly achieved this with some very impressive figures including 64,000 landing page views.
Lisa Myers, founder and CEO of Verve search and winner of the 2015 award for Best use of search in travel and leisure then talked us through they're 'Idioms of the world'.
Key takeaways from the talk for me were to up your creative game if you want to really do something that will be successful, think big, often the bigger links are the easiest to get, if your piece is really impressive and finally believe in what you do!
Lisa really showed that thinking big and being bold is hugely important in everything you do with your marketing and if you want to get nominated and win a search award then a necessity.
Check out 'idioms of the world' here, my personal favourite is the Finnish Idiom.
Next up was Helena Clark, PPC team leader from Periscopix, their entry picked up best use of search in Retail. Helena talked us through her hints and tips for paid search. First and foremost Helena talked through optimising your merchant feeds, Fill in every detail, cover your GTINS (Global Trade Item Numbers) and finally make your feed language friendly.
She also talked through not missing out on your audience opportunities by overlaying all your audiences and really making the best out of your demographics and that more generic bids often push people down the funnel, "you wouldn't take the Goalkeeper off the pitch if he didn't score" was a great way to visual this.
Finally Helena's predictions for 2016;
More shopping and audiences,
Better feed and attribution,
So take all this in for your 2016 PPC campaigns.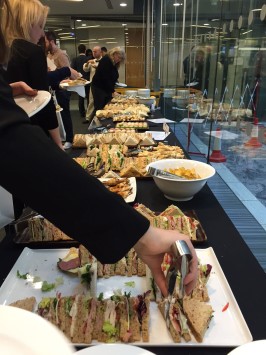 Dixon Jones from Majestic and winner of innovation software, gave a fantastic talk on innovation within a company, key points being;
Innovation is often incremental and is often stifled by cost counting.
People often look to closely at their more profitable clients, Poorly performing clients should be the arena for innovation.
have a place for ideas and make sure you depersonalise them when you decide to develop them.
Dixon also showed us some great examples of visualising data in interesting way, 3-d models of back link profiles being a great example, we also got a great insight into the famous Majestic 'Hackathons' a really interesting take on recruitment and something i'd love to see.
Stephen Murphy was up next, account director at Latitude, there winning piece was Game of Loans. Using their team, including a graphic artist to develop their own images of the famous places from game of thrones the team at latitude. The team at Latitude had a simple set of goals, make something Shareable (1k in shares the aim), Engaging (10k page views) & Link Worthy (Secure 15 inbound links).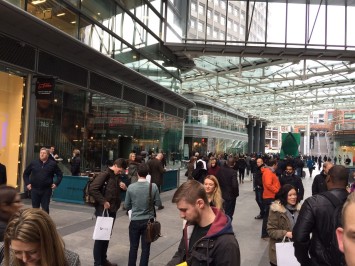 Latitude then used research that focused on being accurate and relatable, something that was massively important for a piece of content linked to a very loved series. So after finalising the piece and generating peripheral content which was a sped up video of the drawings and using Google trends to back up the launch the team at Latitude managed to generate 146 links, not a bad day's work.
I'd also like to say a personal well done to Stephen for dealing with a fire alarm in the middle of his presentation, good on you sir!
Next up was a personal favourite of mine, Dan Gilbert, found of Brainlabs took us through how to create the best agency. His presentation style was relaxed and personal, it didn't feel prepared which was great!
The four key areas of building a great agency are;
Be fair
Collaborate
Learn
Have Fun
Dan talked through so pretty serious things, the gender pay gap, equality in the workplace, performance reviews that are well rounded and fair & bonuses and not having them, all the time kept the entire room engaged and kept the energy in her presentation high at all times. Dan really seems to have hit the nail on the head when it comes to creating the best agency to work for as Brainlabs cleared up last year and i can only see them repeating that again this year.
Head of strategy at Netbooster Ben Neville took us through his best use of social media in a search campaign winner, Accor-hotels and Netbooster – A tale of three cities. A great example of influencers (ambassadors for the three cities, London, Paris & Amsterdam) helping drive a campaign and making the very best use of user generated content and 78 links from that is an amazing result!
Paul Bongers, Director of strategic agency partnerships at SearchMetrics and winner of the Best SEO software showed us the parallels between an american election and building a website, and distilled all his information in a simple phrase "Your site should be like an American Suburb" Clean and Clear, so the crawl should be easy, the internal linking should be useful and clear, like the roads of an american suburb
The final speaker of the day was Sam Hurley from Blueglass. Sam took us through his Best us of search in the third sector. Sam's campaign focused around localised rankings and after an audit he found his client's site had 93% duplicate content!
So after putting together a comprehensive plan including rolling out schema, providing the clients with content guidelines and building up the local area pages sam turned around a flagging campaign and really showcased that the fundamentals done correctly can win you an award!
In conclusion Bing were fantastic hosts, everyone I met was great and overall coming out of this conference has left me with a fondness for Bing and a bigger hunger to pick up a search award for Creare!