Not a lot gets me out of bed at 5.30am, but last Wednesday morning I sprung into action ready to catch a train to London town to meet a group of other social enthusiasts at a ping pong club in Holborn. Before you ask, no I haven't lost the plot, I was making my way to this year's #smlondon conference hosted by the fantastic Link Humans Team.
The day was bursting with social expertise from big household brands like Pizza Express, The BBC, AO.com, & a hotly anticipated talk from Helena Langdon from Innocent Smoothies whose social media is like the holy grail of campaigns! Interjected between these in-house campaigns were some more industry lead talks from the two 'Steves' – Steve Rayson (Buzz Sumo) & Steve Bartlett (Social Chain). Nestled neatly in the middle with a mid-morning talk was one of my favourite speakers, who oozes personality & fabulous anecdotes about her three-legged rescue dogs, highlighting the marriage between email marketing & social media was Tamsin Fox-Davis, a small business evangelist from Constant Contact, who are also one of our partners.
The Who, What & When
Here are some of my standout talks of the day…
Steve confronted the 'Content Shock' era we are all currently facing with 50% of posts receiving eight shares or less. It was a refreshing, fact driven presentation recognising that the solution is research, amplification & monitoring.
How To Find Influencers To Amplify Your Content Marketing http://t.co/wShh4LrmyM pic.twitter.com/taIalKHkwE

— Steve Rayson (@steverayson) July 25, 2015
Email marketing is a no-brainer, I dare you not to be convinced after clicking through this SlideShare…
91% of people check their email daily
For every £1 spent on email marketing, there is a £38 average ROI
Tim lifted the lid on all things socially foodie related. From toilet selfies, to the leap into Snapchat, managing complaints, user generated content, short form video, metrics, platforms & reactive social.
It's a month and a half until Christmas. No point trying to avoid it now, so come try our festive menu 🏼https://t.co/0FKw8veGfD — PizzaExpress (@PizzaExpress) November 13, 2015
I loved the honest overview of the success & failures experienced, recognising the anxiety attached with reactive social for trending topics like the arrival of the Royal Baby.
Congrats to Prince William and the Duchess of Cambridge! May we humbly suggest naming the #RoyalBaby 'Pizza'?

— PizzaExpress (@PizzaExpress) September 8, 2014
Which for me rang true, I hear a countdown style clock when trying to rack my brain for a witty way to maximise a trending topic or the right response to a Facebook comment. Pressure that we unnecessarily put on ourselves & the punishment if you get this wrong is apparently a threatening comment about "Burning Mozzarella Balls" – I presume this is only relatable for the Pizza Express social media team, but my warped imagination quite enjoys the thought of a squad of social media police, inflicting this punishment on any team across the land who fall a cropper with a poorly executed tweet off the back of a popular trending topic, something that Helena from Innocent does not need to worry about!
"Making washing machines interesting" – Yossi Erdman, AO.com
My 'secret squirrel' talk of the day, which in English means the talk that pleasantly surprised me, as I had no preconceptions but Yossi brought the AO brand to life. It's evident that the customer is at the epicentre of AO's campaigns. This is undeniably presented in the form of customer reviews or user-generated content which forms the backbone of their TV advertising campaign.

Aside from AO's ability to make washing machines interesting & selling the customer experience, I have never heard of a company who physically take the feedback to their drivers by printing out Facebook comments, creating a book & posting it to their homes. In doing this they have been able to improve their service levels and connect the team out on the roads with the marketing strategy…sometimes you need to go old school to go new skool!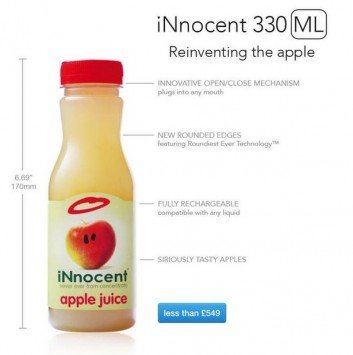 Social media consultants turn green when you mention the Innocent social campaign. Famous for their cat-like reaction to mimic the iPhone release, or the seemingly ridiculous adventures of the 4th Floor stapler, or the accidental snowball of the hashtag #DogsAtPollingStations, not forgetting Jay Z's 99 problems, all make up the commitment to nonsense that Innocent hold so dear. Breaking the mould to be different, having a conversation with their audience but not in a formal, brand way, but in a personal way like a slightly mad, yet genius friend who has this ability to make you laugh on a bad day! This essence flows through everything this brand does, so it's no surprise that their social campaign doesn't sell you juice, it sells the brand which, in turn, means you want juice!!!
It was only ever a matter of time before the 4th floor stapler got its own #BigKnit hat. pic.twitter.com/Po67JuKAUA

— innocent drinks (@innocent) October 23, 2015
Understanding how some of these global social successes were not part of a pre-determined marketing strategy, but simply the brain child of Helena is astounding, even more so that the channels are not run by a hoard of hip, young 20 somethings sat at Fruit Towers, paid to watch trends & formulate clever visionary posts. Instead Helena predominantly & one other person are the voice of the Innocent brand.