Let's not beat around the bush – creating successful content can be hard. Rather than just a case of thinking "I reckon…", typing away and hoping for the best, it involves analysis of your target market and providing genuinely useful content.
But something a lot of us can fixate on is determining successful content purely by conversions. Now, conversions are great and ultimately it's what keeps a business growing but focussing entirely on conversion-centric content is unlikely going to lead to success and it really narrows your audience.

How to Identify Content Purpose & Audience
Knowing specifically which area of your customer base you're targeting is key to ensuring you're aiming for success before you've even begun typing. Identifying your typical demographic often isn't enough,
For example, here at Creare our advice centre targets SMEs who are trying to tackle areas of their own online presence. We know that our demographic is SMEs, but rather than just firing off content blindly we need to drill this down further – telling us exactly what both our audience and our business want out of it.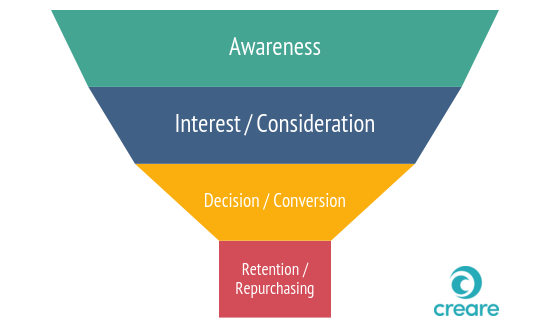 What Is The Buying Cycle?
Essentially, the buying cycle is the process someone might go through when they're looking to buy or simply have interest in products/services. Regardless of what they're doing, customers in the buying cycle are people interested in the type of products or services on offer.


A customer in the 'awareness' stage isn't necessarily looking for specific services or products. This stage refers to making potential customers aware of your business, whether or not they're immediately a potential customer.
Using pest control as an example, users may not be needing a company but, instead, could just be looking for information. An appropriate article at this stage would offer facts and information about wasps nests in the home such as where they might be found, when they die off or what the dangers of nests are.
While users at this stage are unlikely going to convert you are still targeting a specific and relevant audience in the right way – they're aware of the business.


At the next stage, your audience is likely to be looking for a problem to a specific solution. A tool supply store, for example, might want to bring in traffic from users that need a tool but aren't sure what that is. Research from PropelGrowth shows that 92% of buyers don't consider themselves experts in solving a problem – and they turn to content for the answers.
An example piece of content  would be creating a 'How To' guide for putting up a partition wall, with the tools you'll need as part of a step-by-step.
You've then turned an 'Awareness' visitor into a potential customer you can get to convert; you've provided genuinely useful content to gain trust, but also given advised on the products that they need to solve their problem.


This is one of the most important areas of the buying cycle – ultimately it's what makes your clients or business money. While it's not the goal of every piece of content you create, falling at this hurdle makes your other efforts wasted. There are a number of steps you can follow making sure the content across the site is geared up towards conversion:
Blog posts giving how to guides for specific products – inform customers on what they can do for them
Balancing informative and promotional in all service/product pages – don't forget customers need a reason to buy into your pitch
Utilising rich media for product pages (e.g. promotional product videos)
Ensure content is engaging – consider length, tone, and level of detail in line with the audience
Make sure the content is in line with page design – don't create too long or short content that might hamper the positive impact a design might have.
44% of online buyers prefer to use emails for customer service, so utilising this resource can be particularly important. Hannah Green, Creare's Head of Marketing, has already written this month about the importance of email marketing in any campaign.


Once you've converted, the challenges don't end there – the next step is customer retention. Particularly important if your average order values are relatively low, but still key for higher order values, you need to make sure your hard work of engaging customers and guiding them to conversion doesn't end at the checkout page.
Email marketing can play an essential role in this area to, in addition to conversion rates. Everything from useful reminders on products a customer has already bought to incentive or competitions can grab your existing customer base and drive them through to your site for their next purchase.
Even exclusive special deals for particular customers on birthdays have been proven to work – see some great examples from US firm Litmus here.
Actions Points – What's Next?
Your first step before implementing any strategy in line with the buying cycle is to determine what your key needs are as part of your marketing plan. Lack of traffic but good engagement with service pages or products indicates the awareness stage is your main issue; good traffic but poor engagement would suggest consideration and conversion content should be your main focus.
Identify your goals and develop a content plan for specifically what's needed, why it'll work and set in place a method of tracking these end results. For example, tracking click-through rate from a post to product/service pages and then monitoring conversion rates.
Have you developed strategies based on the buying cycle? Or have you been struggling with content strategies because of difficulty in achieving goals based on customer needs? Let us know your successes, issues and thoughts in the comment section below!