We trekked over to Brighton for one of the biggest SEO marketing conferences in the UK – BrightonSEO – and what a buzz there was! By 8am there was a flux of Content Marketers, Outreach Consultants, Account Executives and SEO savvy experts waiting to get in and begin enhancing their SEO knowledge!
Key Takeaways
Before you plan promotion, you need to know why you are promoting this piece of content, for example is it to gain links? Is it to obtain further interaction via Social? For direct conversions? To gain new customers? Or to grow your existing customers?
Outreaching alone isn't enough – if that's the only way you're getting your content out there, than you need to do more.
Find out where your audience is searching for content and what they are reading – this can be done through YouGov.co.uk, Facebook Audience Insights and Google AdWords.
Messaging and headlines are key because people don't read entire posts, the majority of people just read headlines! Ensuring your headline is eye-catching and appealing is a must – 1.7 million people won't care about anything else!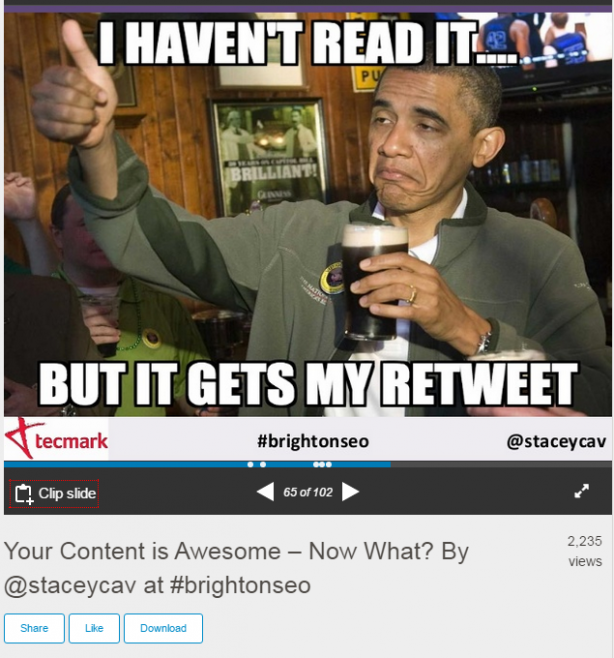 This is something we already know but is extremely important – reviews. You must encourage customers to leave only positive reviews and discourage the negative. This will happen from providing customers with an excellent service, as well as a little push towards the reviews page!
Follow the news and write about things affecting the customer's industry on their Social channels.
My favourite key takeaway was this: Social media does not take the weekend off! Yes we work weekdays, however we should be tweeting and writing posts on weekends too. Most companies make the common mistake of not writing the whole weekend, and leaving it until Monday morning.However, this is the time that people go onto Social Media channels such as Facebook and Twitter the most – and we all know how quickly social buzz can fizzle out, so make the most of the likes and shares.
Favourite Speaker of the Day
My favourite speaker of the day was Stacey MacNaught who spoke about when your content is awesome, what the next stage is in order to get it to the top. Cathal Berragan came in close second, with his talk about how to gain millions of followers on Twitter!
Summarise Brighton in 5 Words
Informative Wealth of Content Delivered!
Quote of the day
"Outreach is a promotion technique, if the only thing you are doing is outreaching, then you're not doing enough". Stacey MacNaught
Round-up of the Best Talks of the Day
Your Content is Awesome – Now What? – Stacey MacNaught
This was a very informative talk about how having good content is important, but the way you get it out there is becoming increasingly vital in getting readers engaged with what you're saying.
Lessons Learned on the Way to Half of a Million Twitter Followers – Cathal Berragan
It was great to get a view of work from such a young and enthusiastic Content Director, Cathal, who spoke about how he started a Facebook page called 'Exam Problems'. Thousands of young people joined and wrote within the group, because they were all going through the same situation, which he then went on to sell for a profitable amount of money – and all of this began from simply having good content!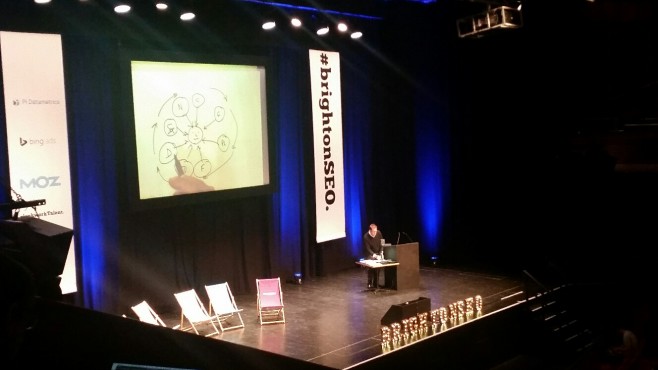 Dave Trott was the closing keynote speaker. He talked about how there are always new devices coming out, but the person is the media – we are the ones who decide whether a device is good or not, and we decide if it should get passed or not. He also spoke about how there are two types of people – the formers and the followers. Formers do the talking and have a range of opinions, and the followers, well…follow! The key thing about followers is that they want to stay out of the spotlight so will follow content/social trends.
For further information you can visit SlideShare where some of the speakers have uploaded their informative slides.