T'was a hot July day in London and I was lucky enough to attend what was my 4th Magento UK event with my developer colleague and buddy Tom Foyster (@TomFoyster). This year was better than all others in terms of location and community spirit.
It was strange seeing the keynotes headed up by high-level Ebay representatives instead of Roy Rubin and Jimmy Duvall, whom we have become so used to hearing from each year. Anyway, here's my diary and thoughts for the day… enjoy!
Monday 14th July – Opening Night Networking Event
The drinks were-a-flowin' and the dance moves were-a-showin' at the pre-show party. Tom and I arrived at about 8pm and enjoyed catching up with some familiar and many new faces. I particularly enjoyed meeting Ben Marks who was unknowingly largely responsible for myself, Tom and Rob Kent (@kent_robert) becoming certified developers after watching the Development Fundamentals videos.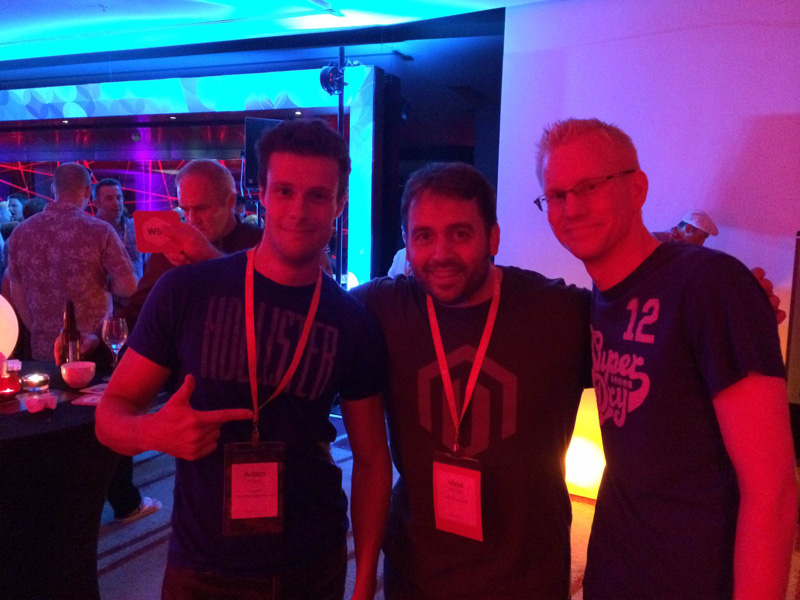 Four events in and I'm sure that one of my goals is to some day drink as well as Karen Baker (@webshopapps).
Tuesday 15th July – 9am – General Session
Steve Denton kicked things off with a cool video on the history of commerce and likened the explosion of ecommerce to the British industrial revolution. A few key stats from his talk were:
64% of consumers have chosen an ecommerce provider over another due to free shipping. People hate to pay for shipping as this is something that you don't need to worry about on the high street, so eliminate it if you can.
35% of UK ecommerce sales are click & collect – a nice solution to my point above.
1 in 4Â of UK ecommerce sales are made from a mobile (that's a lot of customers)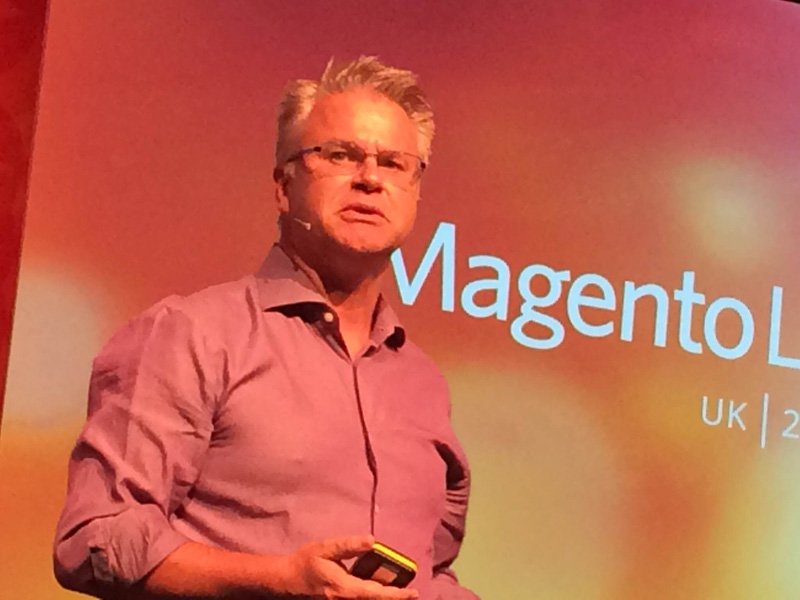 Following Steve was Magento Live regular John Lunn. This guy could literally sell ice to an Eskimo and he's not even a salesman. He's always clear about PayPal's product development, and he did a great job of getting people excited about PayPal's newest acquisition of Braintree.

The new PCI-DSS compliant payment gateway which looked easier to use than a knife and fork sounded sublime, and the promise of 1-click PayPal purchases is a huge step in the right direction.
9:30am – Developer Session
Being Magento developers ourselves, myself and Tom decided to keep our 2nd row seats and stay in the Westminster Suite for the developer session.
Stefan Willkommer began by talking about threading in PHP. I admittedly struggled with the concept until I was given an example of how it could work with product imports. In a nutshell PHP threading can help with store performance and developers should look into using this technique going forward.
Look at the data that Magento records in its log tables, and how valuable this information can be.
Dhruv Boruah then gave an interesting talk on machine learning with Magento. I didn't really think about all the data that Magento records in its log tables, and how valuable this information can be. We have data for:
Products visited/added to cart & purchased
Length of time on site
Browser used & IP
Referrer URL
Upcoming holidays / current weather / exchange rates
We can use this data in a variety of ways, such as showing discount promotions to customers who add to their basket but never checkout – something to encourage them to buy. The Reckless IO extension is available on Github: github.com/reckless-io/prediction
11:30am -Â Technical Track: Creating a Better Experience Through Responsive Design
Meanbee director and Magento community legend Tom Robertshaw (@bobbyshaw) delivered a great talk on responsive web design with Magento.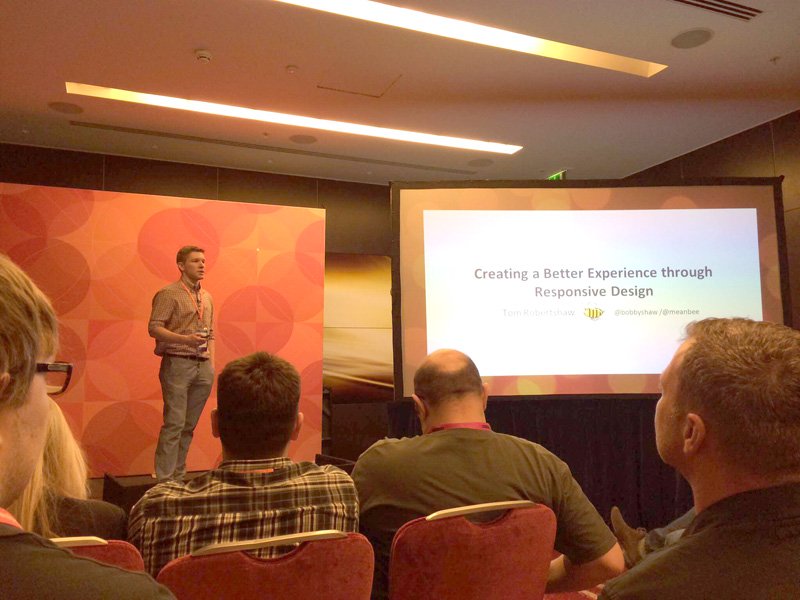 This wasn't just a by-the-numbers talk about why responsive is important, which would've been like preaching to the choir. Instead Tom focused on how to push the boundaries with responsive design and how to avoid making common mistakes. Some of the key takeaways were:
Pay attention to the devices that your customers use. They can vary greatly depending on industry.
Tailor your content and imagery to devices, but don't strip out features and frustrate customers.
Enhance your design and functionality through feature-detection and browser detection. All this information is now available to us.
Always evaluate code complexity against the needs of the business so you don't pollute your code with unnecessary features.
Stay up to date with the latest trends through self-research and development
This wasn't just a by-the-numbers talk about responsive, which would've been like preaching to the choir.
You can watch the full video here: https://www.youtube.com/watch?v=8UI1cJJcx28
12:15pm -Â Networking Lunch
Following a nice lunch and meeting some more members of the community we took a stroll outside and took a break by the Thames. What a beautiful day it was!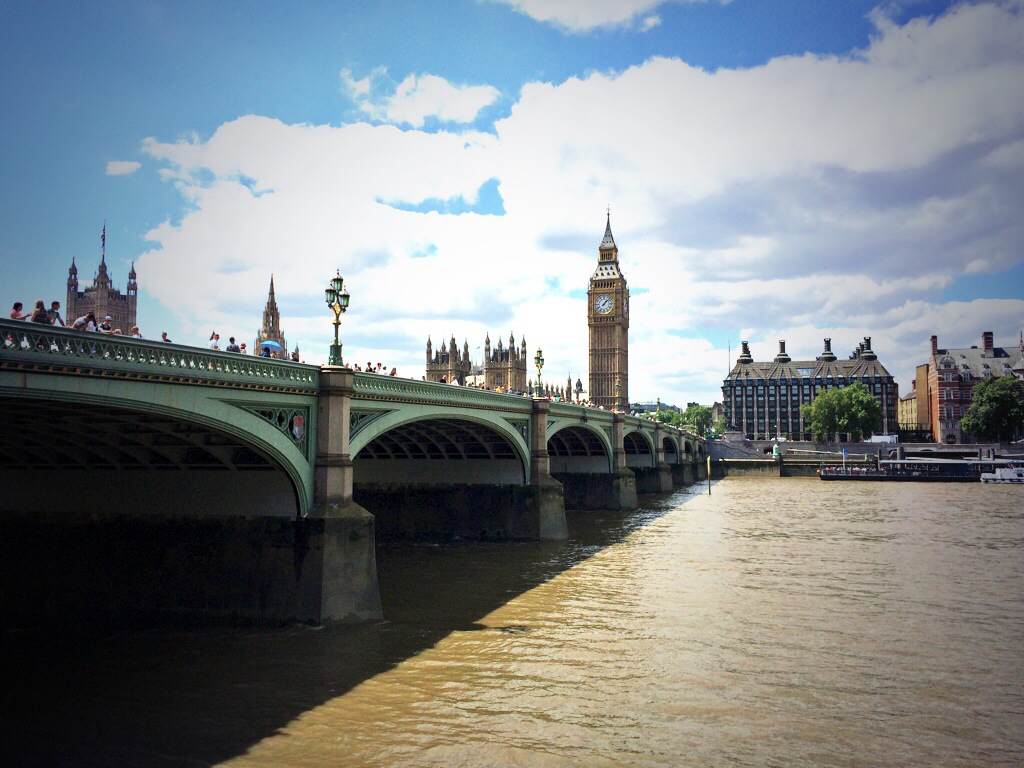 1:30pm – General Session II
The second general session was more Magento-focussed and was delivered very well by all involved. First, Craig Hayman was interviewed by Steve Denton in a fireside chat (without the fire). Steve compared the innovation and booming nature of the Magento community (or ecosystem as it's often called) to that of IBM from an earlier time. He then went on to say that open source is a technology that will win every time, even against technology giants such as IBM.
Open source is a technology that will win every time.
Next up was Ben Pressley, Head of Magento Worldwide who reassured us all with mind blowing stats about Magento and why we should stick with it. One that stood out for me was that almost 1 in 3 online transactions goes through Magento. If that's not a dominant market share, I don't know what is. Even with all the momentum WooCommerce has, it still has a lot of catching up to do. Ben then went on to explain the market share growth in the last year in some of Magento's key markets – the UK alone has jumped from 33% to 42%.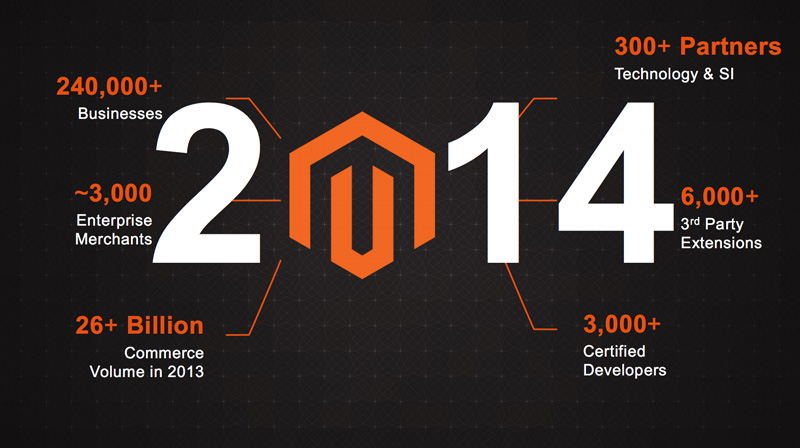 As a Man Utd fan it didn't excite me too much that Liverpool FC is now using Magento.
Magento CTO Brent Peters then took to the stage to deliver some news about the widely-anticipated Magento 2. He went through the release approach and goals of Magento 2, most of which we had already seen before. Having played around with the dev version I'm very impressed with many aspects of Magento 2. The service layer, the switch to CSS compilers, the responsive theme, and the modularisation of all elements all seem great steps forward (beige-admin area aside).
Having played around with the dev version I'm very impressed with many aspects of Magento 2
Ben Marks (@benmarks) was then invited to the stage to give us an update on plans for the Magento community and support for developers. I'm looking forward to seeing the updated Wiki, Docs and the blog resource library (don't forget us Ben!).
2:30pm – Breakout Sessions III
If you'd have not seen or heard of Dotmailer before, then you will have known them very well by the end of Magento Live UK 2014. Ben Stavely (@bsstaveley)  and Jonny Dixon (@jonnydotdixon) gave a detailed and funny presentation on how to use customer data and behaviour to fully segment the way you market your products.
In 2013, 75% of social generated sales came from Facebook,
Twitter and Pinterest
39% of Facebook users like brand pages to research products
74% of consumers rely on social media to guide their
purchases
You can find out a lot of things about your customers which will tell you a lot about what their interests are, when they like to buy, who they buy for and whether they're influenced by discounts. Collect this data then target your email marketing to the right people. For example, if I buy lots of tins of fence paint regularly then don't bother advertising indoor wall emulsion to me because I'm most likely an external decorator.
Repeat customers spend up to 67% more than first time customers.
There's also a lot you can learn from email opening behaviour. Things such as: How soon do they open their emails? What devices to they use? Do they respond to coupons?
33% of consumers say email contributes to online shopping
78% people check email on mobile phones
Lifetime value of an email acquired customer is 12% higher
7 in 10 people say they made use of a coupon from a marketing email
23.8% of all email opens occur during the 1st hour after delivery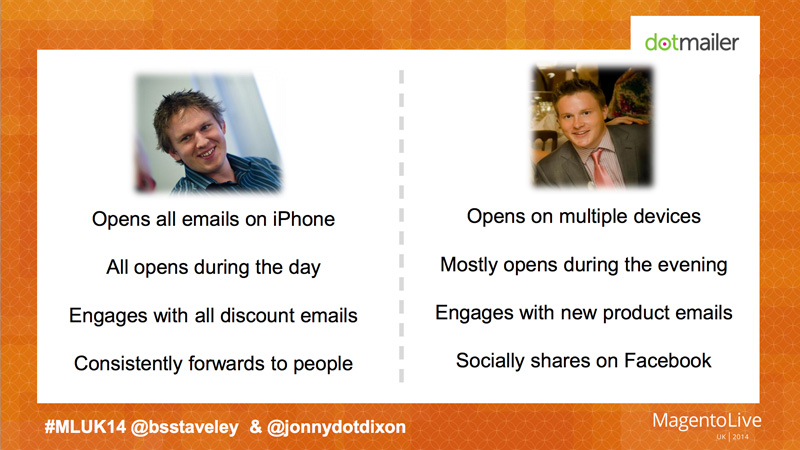 The key takeaway from this talk was to work hard on customer retention rather than first timers. Repeat customers spend up to 67% more than first time customers. Do this through better targeted email marketing, brand building and adding value to your service – don't just focus on sell, sell, sell!
I'll be doing a post in the coming weeks about the best Magento extensions and solutions for personalised marketing.
3:30pm – General Session III
The final general session of the day included 3 talks. The first of which was a brief overview of challenges facing brands and retailers by Ebay Enterprise MD Michael Kliger. In a nutshell the message was that everything can be achieved with Magento Enterprise + eBay Enterprise, which is great for Ralph Lauren and British Airways, but is perhaps out of reach for SMEs.
The second talk was held by Pete Blackburn, eBay Marketplace Head of EU Merchant Solutions. Following on nicely from the earlier talk he outlined a few ways to integrate Magento with eBay Enterprise. To be fair to eBay, they are gigantic. 70% of listings are new merchandise & sold at fixed price, so why not get your Magento products on there. The diagram below demonstrates the best route to an eBay marketplace depending on your store size.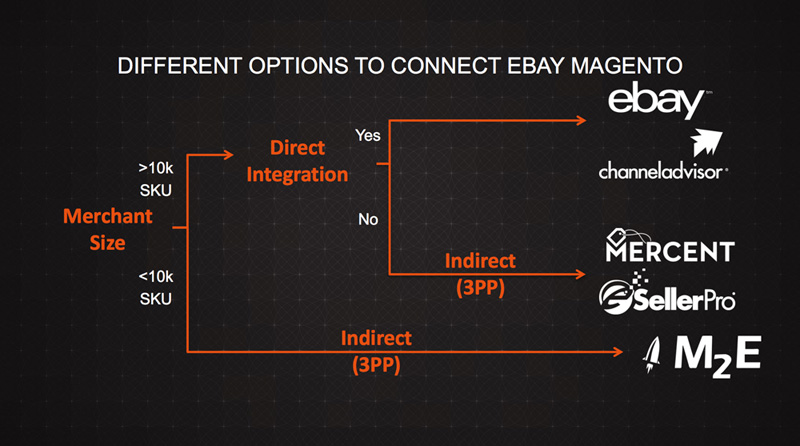 With this in mind, M2E is a superb platform for SMEs, and it's something we are recommending to all our clients.
The final talk of the day from author and PhD Mariana Mazzucato, is one I won't forget in a hurry. The subject was about debunking the myth that the private sector is sole provider of innovation, but in reality much of it is publicly funded. The best word I can use to describe the talk is 'relentless'. It's a good job we stopped taking notes or our MacBooks would've surely burst into flames.
The best word I can use to describe the talk is 'relentless'.
Her points were backed up in meticulous detail. Most of the diagrams went completely over my head, but the one about the origins of the iPhone's technology was of great interest. Did you know that CERN were responsible for the click-wheel?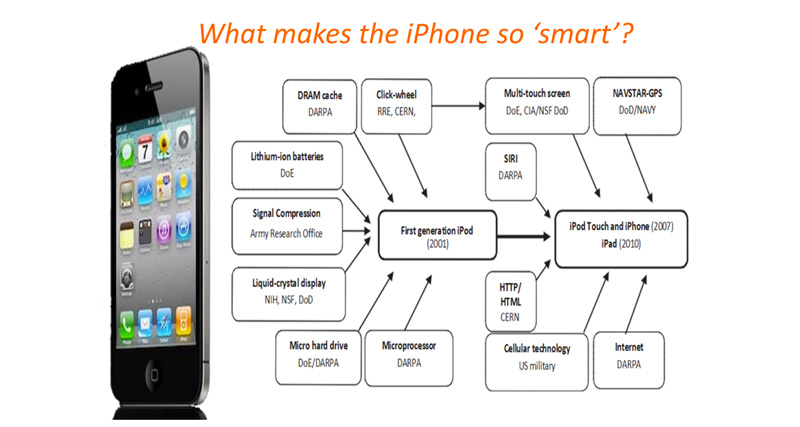 Mariana's passion and subject knowledge were second-to-none, but I'm sure most of the detail of the presentation was lost on large parts of the audience.
4:30pm - Breakout Sessions IV
We were having such a good chat with Ebay representative Lee Hadsock (@leeCommerce) that we missed the third set of breakout sessions, so nothing to report here. Sorry!
Summary
So to summarise, this was by far the best Magento Live UK event I have been to. Everything seems to be moving in the right direction with Magento and eBay, and the future looks very bright. Here are my key takeaways from the event:
Personalisation is becoming key to successful ecommerce in 2014. Merchants need to be customising the user experience and using market segmentation to market the right products to the right people. There's a wealth of data available, don't be afraid to go and get it and use it!
eBay are fully behind the Magento project and are working hard to optimise their product range for businesses of all sizes.
Click & Collect has become a hugely popular checkout choice among consumers, it can be implemented into pretty much any ecommerce website regardless industry.
Magento are listening to the community with regards to Magento 2 – the 'Buy-A-Feature' stand at the event and Magento 2 dev repository (now at 91 commits) are testament to that.
Magento Live parties still rock!
You can watch all the presentations and read the slides here: http://magentolive.com/uk/speakers