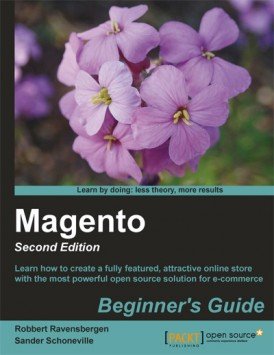 Like it or not 2009 was a fair few years ago now, and at that time Magento 1.3 was the latest craze. The Magento platform was still very much in its infancy, and its users were only just beginning to really get to grips with it.
Four and a half years removed from the first edition of Magento Beginner's Guide comes the second edition which builds on the original. The topics that the new book covers from a general perspective are the same as the first edition, but more up-to-date and relevant to the updates made in Magento version 1.7.
Buy Magento Beginner's Guide 2nd Edition today on packtpub.com
Who's it for?
If you're hoping for a quick reference type-book then this is probably not the book for you. It's very in-depth and covers all the main topics in a lot of detail with helpful imagery throughout. If you want a quick guide I'd recommend this book I reviewed a few months ago.
This book, as it says on the tin, is for absolute beginners because it takes you through everything you need to know in order to setup, customise, manage and run your shop. This is for merchants who have a decent level of computer/Internet literacy and for web designers/developers who are getting their head around how Magento works for the first time.
Writing Style
This book was written by two experts in the field of ecommerce, business and media psychology, rather than web developers. Therefore it reads in a far-less technical manner than other books in the market today.
There's a few conventions which I really like. 'Time for Action' gives you a set of clear instructions at various points in the book where it's time to stop reading and give something practical a try. Â There's also 'What's just happened?', which summarises certain actions that require further explanation – a nice touch for beginners.
There are also summaries and pop quizzes at the end of many of the chapters which are very useful as they keep your attention focused on what you've just been reading about.
Contents
The chapters work chronologically in terms of how you would go about setting up a store. They follow a very similar process to our own in-house training modules. Here's what's covered in a nutshell:
Installing Magento (locally)
General configuration
Adding categories & attributes
Adding simple products
Adding more complex products
Managing customers and newsletters (includes a mini-tutorial on MailChimp)
Configuring payment methods
Configuring shipping rates
Theming your store
Order processing from making an order to refunds (includes making admin orders)
General ongoing administration (includes tax, currency, caching/indexes, stock control)
Summary
At 320 pages long this book covers its subjects in very minute detail. It's one of those books that you'd have as a training aid while you first delve into the complex world of Magento. You're not just setting up a shop, you're running it too! By following this book you'll give yourself the best chance of doing all the basics right before really pushing your store out into the marketplace.
For more advanced users you'll find nothing new here, but for beginners you'll struggle to find anything as up-to-date or comprehensive as this in any bookshop. For those people, this book is certainly recommended.
Rating: 8/10