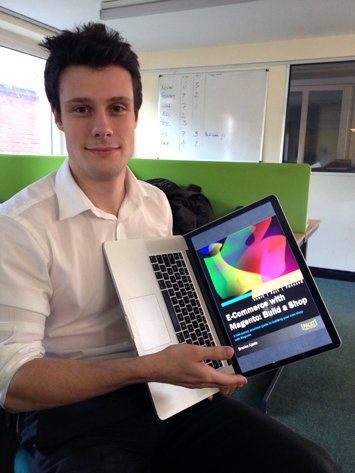 It seems like eBooks these days are all the rage. I remember a time when Waterstones was the busiest shop on the high street, and the smell of getting a brand new book for Christmas was one of life's fond moments.. Anyway, here we are in 2013, and Packt have sent us their latest Magento eBook entitled 'Instant E-Commerce with Magento: Build a Shop'.
The book is part of Packt's relatively new 'Instant' series, which makes the book a lot shorter than normal (52 pages), but also much more to the point. In a nutshell if you want a quality e-commerce website quickly, then Magento and this book (I mean eBook) will get you there.
Who's The Book For?
In the book's own words:Â "This book is primarily intended for merchants starting their own new shop and developers completely new to the Magento eCommerce platform.". Never a truer word spoken. It covers the absolute basics of Magento which I'll point out below.
What's Covered?
This book covers the basic tasks involved in setting up and running your store. If you read this book and have a go at setting up your own Magento site you should find it much easier than without, but don't expect lots of detail – you are expected to have a general of understanding of computers and ecommerce. Here's the lowdown:
Installation

Basic Configuration
Categories, Attributes & Products
Payment & Shipping Setup
Transactional Emails
Promotions
Managing Orders
Themes
Summary
The topics covered in this book are very similar to my video series on YouTube in that they teach the absolute basics – don't get this if you're a merchant/developer who wants to take their skills to the next level. For absolute beginners and merchants with little technical knowledge however this is a well-written and affordable introduction to the world of Magento.