With big, corporate companies spending hundreds of thousands on their social media strategies alone, the social arena can be a very daunting place for small businesses who may be juggling a three or maybe four figure budget. But with the right tools and a little bit of industry knowledge, you can turn your social media strategy into a success.
Choose Your Social Weapons Wisely:
There are a lot of social media platforms out there and many business owners believe they must have a presence on every single one. This isn't the case. Start off small, find your feet and discover what works for your brand. It's better to have 3 or 4 solid social platforms running than 10 which are mismanaged and visibly neglected. We suggest Facebook, Twitter, Google+ and LinkedIn as your entrance into social media before tackling the likes of Pinterest and Instagram.
Why those four?
Facebook has over 1.49 billion users and a fantastic platform for creating specific Facebook Ads, as well as Boosted Posts. All with the intention of an increased relevant audience and hopefully, traffic to your website.
Twitter has an incredibly active community and the outreach potential is huge. Never forget the power of a hashtag!
Google+ is proven to aid an SEO campaign and can have an impact on search rankings. With the data being pulled through to Google's SERPs, a visible and up-to-date Google+ page is key in today's digital market space.
LinkedIn is where the professionals and the industry leaders are, it's also the place where you can build up your business' credibility and authenticity.
Stay Balanced With Your Approach:
It can be very tempting to use your social platforms to push new products, share your own content and drive sales. However, much like that annoying friend who constantly talks about themselves, people will soon get bored of your updates and become disengaged. Provide a balanced message for your audience, be promotional, be useful and be real – remember your social channels are your brand's voice and personality.
Follow the social media rule of thirds and you'll be on your way to creating content that attracts and maintains your audience:
One third of content should aim to promote your business, drive traffic to your website and convert your audience.
One third of content should share ideas and stories from thought leaders within your industry.
One third of content should promote audience interaction and focus on building your personal brand.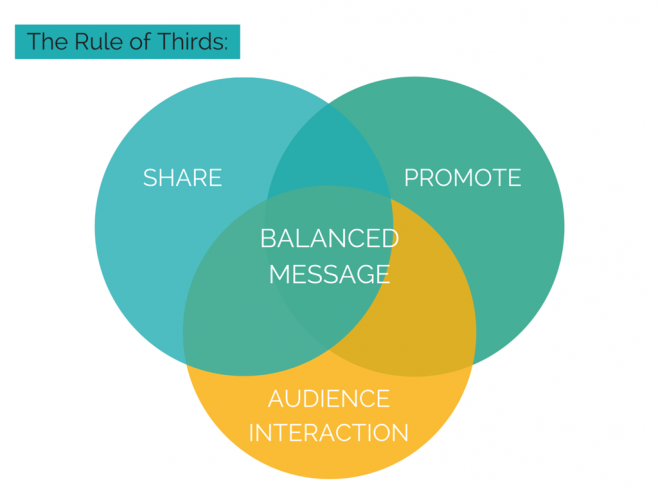 Find a Management System To Suit You:
Monitoring your channels, posting updates and interacting with your audience can be a hard task to undertake when you're trying to manage the channels individually. We would suggest finding a management system that works for you. There are many available on the market with Hootsuite, Buffer and Sprout Social some of the most popular in the industry.
Management systems like Hootsuite allow you to plug in all of your social platforms, schedule all posts and monitor your channels through a number of streams. You also have insight into what your audience are saying about you, providing you with all around visibility.
Ensure That You Are Visible:
There's no point setting up social media channels if no one knows about them. Make sure your website is optimised for social media, with clear clickable links and icons to all of your active social channels. All marketing material should include your Twitter handle and links to your chosen social channels – this includes your email signatures, business cards, newsletters and everything else you can think of. Brand consistency includes social media so spread the word as much as you can!
Monitor Your Social Success:
It's important to remember that you won't see results overnight, especially as you should be building a really natural and engaging social base. You can expect around 3-4 months of working with your social media platforms and interacting with users before being able to determine a level of success. And most importantly, think about your definition of success using the questions below:
Do you want to improve awareness and build your social audience?
Is the aim to drive traffic to your website?
Are you looking to drive sales?

Once you know what your success metrics are you can begin to build a report, demonstrating what your channels are achieving for you. If your key focus is driving traffic to your website and converting customers then you need to measure your results through Google Analytics, using various goals and tailored segments. If it's engagement, interaction and audience growth you can use Facebook Insights, Twitter Analytics, Google+ Insights and Hootsuite to draw the relevant information for each channel.
Good luck! And if you need any further help take a look at our 'Top 10 Social Media Tips for Small Businesses'.