The term SEO is often confused with some sort of technical wizardry which displays a website at the top of Google. However, there are so many accompanying factors that you need to take into consideration when building your brand visibility. Check out my top three contributing factors below…
1. Quality
As a local business owner, you want to relay to your customer the quality of the service that you can provide. So why would your website be any different? Leaving your position in Google to one side for a moment, we need to observe how your website is representing your company. Let's look at a few important factors:
Does your website load in an appropriate amount of time? The worse case scenario is a potential customer leaving your slow-to-load website behind in a rush to find a better provider.
Does your website captivate your audience in the right way? The content needs to be engaging, the imagery needs to represent your business and there must be clear calls-to-action.
Is your website mobile responsive? The fact remains that a site which performs on a mobile will capture better engagement from your mobile users.
Whilst I asked you to leave your rankings in Google to one side, let's revisit them for just one minute. I mention load time, mobile usability and overall website quality above. Did you know that Google takes these factors into consideration before deciding where to place you in their results page? They do. And if you have no idea whether your website has that all-important quality factor – check out where you stand with a free digital health check.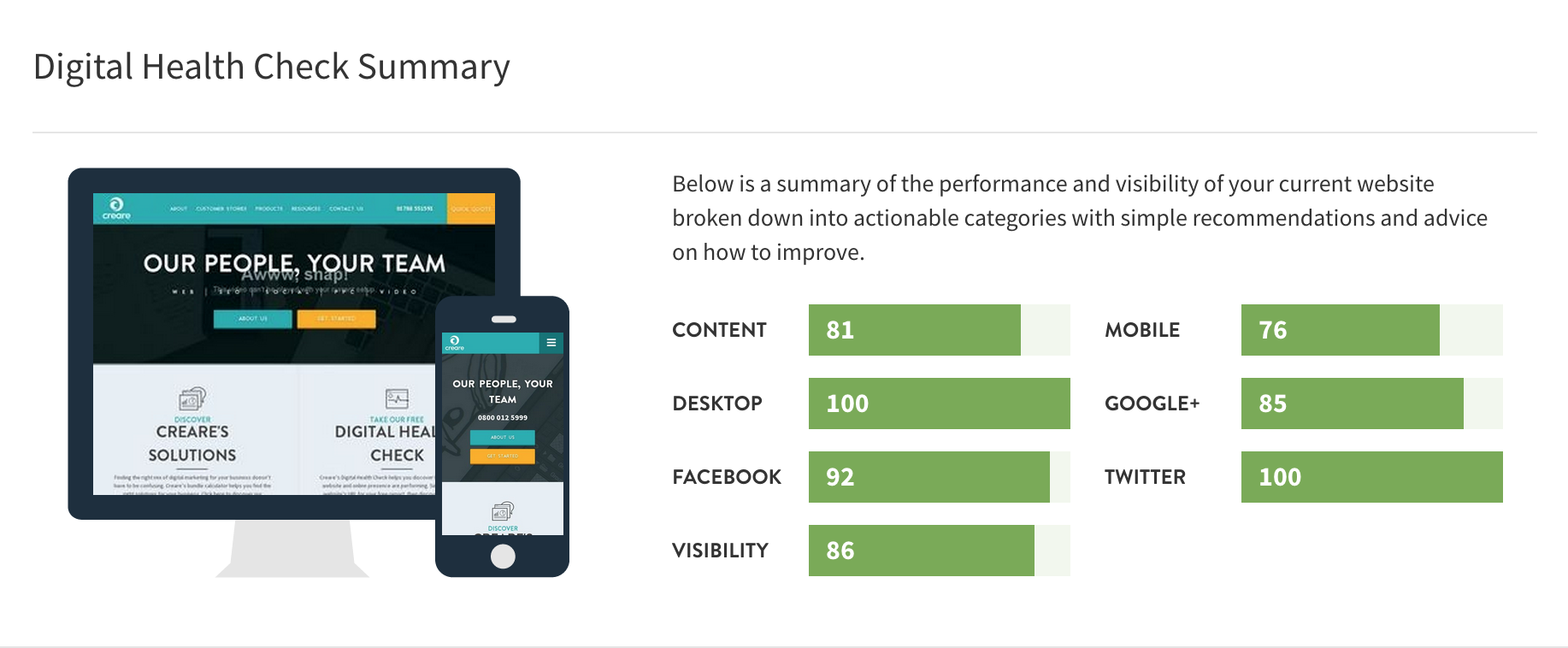 2. Awareness
A website provides your business with a digital presence, but creating awareness is part of a much larger spectrum. At one time a two-page spread in a local directory was enough to spread the word but there is so much more to consider when you want to become a recognised brand. If you're unsure whether you are advertising your business to its full potential, ask yourself the following questions:
Are you utilising branded social media channels? From Facebook and Twitter, to LinkedIn and that all important Google+ you can spread awareness of your company to masses of users.
Have you considered email marketing? Whilst your website may capture a potential customer, you should aim to regain their interest and perhaps their business with some content-driven email marketing.
Is your brand consistent? The design of everything from your website to your business cards should be reflective of your brand values.
And whilst I don't mean to harp on about Google+ in this post, it can be a really important platform for local listings of your company. Ensuring that you have a verified Google+ page, with all of the relevant address details, may result in a maps listing for your company. See the possible results in the snapshot below: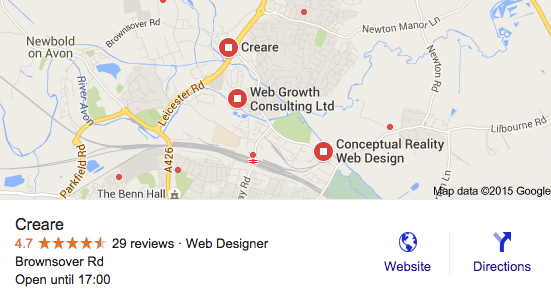 An example of Creare's presence in a local search.
3. Trust
Often, you gain the trust of your customers after the first meet and you hope to see recommendations spread across the local area. However, you need to consider how important earning the trust of your potential customer base is. I have mentioned Google+ as an awareness tactic above, but now we're going to focus on reviews. Utilising this page as a review platform is the perfect method of capturing a desired customer, right from the result of their local search page. Whether your potential customer uses keyword or brand based searches, Google can filter in the reviews and/or star rating that you have, which is a major trust signal from the very beginning. But here are some top tips for using this review platform:
Is the information correct? From your business name to your opening times, every piece of company data on this page should be correct and up to date.
Are your reviews genuine? Placing fictitious reviews on your own Google+ page, all of which are a five star rating, is extremely obvious. Leave it to your happy customers!
Have you spread the word? You could choose to send a follow up email to your satisfied customers with a link to your Google+ page, asking for a quick review of your services.
And check out how this data can be pulled through from your Google+ page below: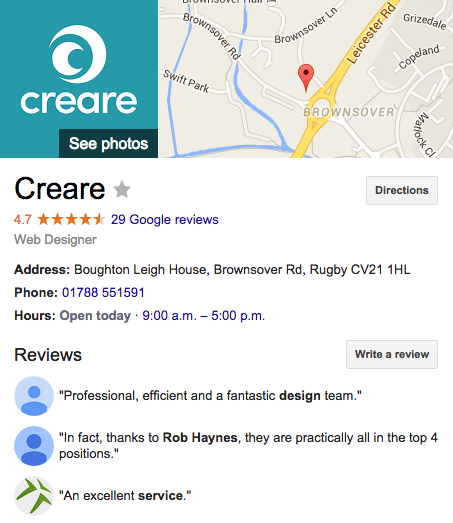 Concluding point? Local SEO is so much more than page one results. It encompasses everything from quality to brand building to trust signals – all of which can be easily achieved by your business.