Everyone has their favourite social network. For some entrepreneurs, they might favour Facebook as a way of reaching out to their target market, or even LinkedIn or Instagram. As much as I enjoy using Facebook and Instagram from a personal perspective, my "superstar" social network has to be Twitter.
I have been using Twitter actively since 2009 and have never looked back. It's my favourite social network because of how it allows me to engage in a two way conversation with my community.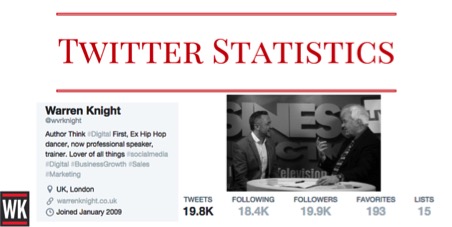 From a recent study I conducted with my audience, I found that 55.6% of the business owners in my community found Twitter the most difficult social network. This is something that needs to change as Twitter is one of the most opportunistic social networks.
I have recently been given the title of 15th most influential marketeer in the UK from Brand Republic as well as the 4th most powerful online user out of 100 influential leaders and experts by The Digital Marketing Show. Both of these were measured based on my Klout score and how active I am on Twitter.
Do you want to be a Twitter Superstar? Here is how you can do it in 6 simple steps.
Consistent Online Presence
The profile you create online, must be brand consistent. This means that your website, Twitter, Facebook, Instagram and any other social network you use, needs to be sharing the same message through written content and images. One tool which I use to help me with image consistency is Canva.
Do Your Research
I talk about due diligence a lot in my weekly blog posts but it is something that is often overlooked by business owners. Without knowing your target audience through researching them, you won't know what information will get the most interaction. A great tool I use for this is called Social Mention.
Follow and Engage with Industry Experts
One of the best ways to position yourself as a thought leader in your industry, is to follow and engage with other experts. Find common ground, connect with them online and find ways in which you can work together. For my monthly webinars, I bring in a though leader, with expertise in a specific area of growing a business so that my audience consistently receives value.
Build Your Lists
A list is a group of Twitter users, which you or another user has created. Viewing a list will show you a stream of tweets from only the users on that list. These can be public or private. Different types of lists include hashtag lists, client lists, competitor lists, news lists and industry leader lists. To read more on how to create lists, see here.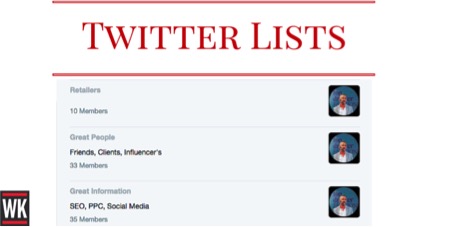 Use Hashtags
Hashtags are extremely important for Twitter and Instagram. Using the # before a word or phrase (with no spaces) makes it into a searchable keyword. The tweets with a Hashtag are two times more likely to get engagement because people know how to listen into what they are interested in. Use this to your advantage on Twitter. If you want more help with using hashtags on social networks, see my latest webinar here.
Using Hootsuite to Schedule Tweets
Social media doesn't have to take you hours a day, nor should it. Using tools like Hootsuite to schedule information will ensure that you are sticking to your social media plan, without losing too much of your valuable time. I would suggest a minimum of 5 Tweets a day, so that you can connect with your audience at 9 in the morning, all the way through to 6 in the evening.
Remember do not expect amazing results to happen overnight as this is not how social media works. You need to spend the time engaging in a two-way conversation, as well as consistently sharing valuable information and connecting with thought leaders in your industry.