From the 5th – 9th October, Creare promoted a week of why our staff, partners and other industry gurus #LoveDigital.
All of the responses we received were fantastic, so we've collated some photos below;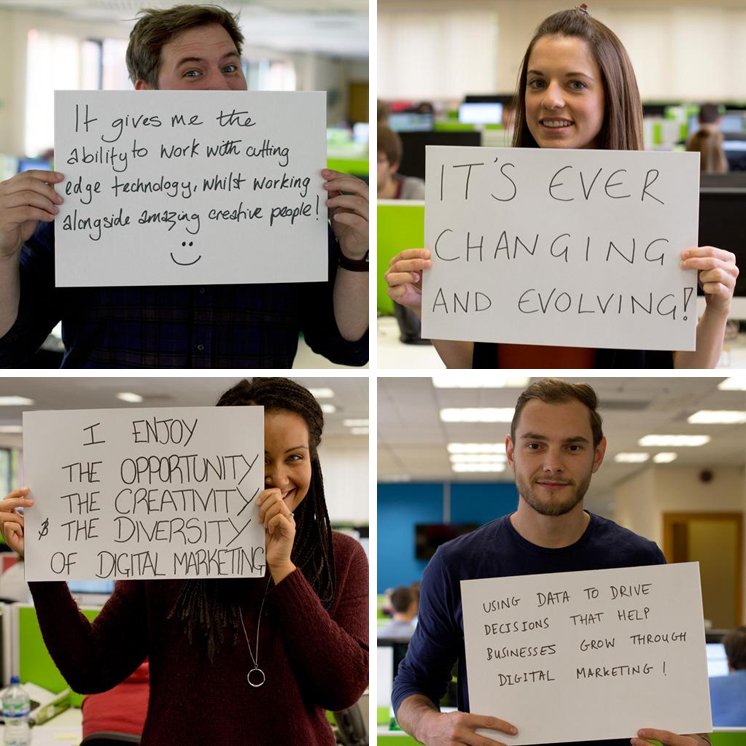 In order of appearance from left to right –
Then, as more and more people jumped on the bandwagon, things started to get a little inventive;
Local Account Manager – Chanice Nolan
Used our Digital Health Check to express her opinion
I mean who doesn't #lovedigital @creare #ido #seo #digital #marketing #healthcheck pic.twitter.com/rs1K1xolUZ

— Niece Nolan ☮ (@Niecenolan) October 7, 2015

Technical Developer – Josh Lake
Let Google do the talking for his tweet
@creare Why I #LoveDigital pic.twitter.com/nLUpvMEleH

— Josh Lake (@l4k3y) October 7, 2015
Web Developer – Pawel Grzybek Got extra geeky and wrote his love for digital in code
I #lovedigital @creare pic.twitter.com/QQnBbeBGp1

— Paweł Grzybek (@pawelgrzybek) October 7, 2015
Illustrator and Web Designer – Jarkko Sibenburg Thought a picture would say 1000 words  
@creare #LoveDigital #SEO #SocialMedia #Webdesign #Smallbiz #Smallbusiness pic.twitter.com/nBnmtqWy0c — Jarkko Sibenberg (@JarkkoSibenberg) October 8, 2015

However, the piste de resistance was;
Social Media Consultant  -Leigh Groocock
Leigh decided to go all out with a GIF – Bravo Sir!
@creare#LoveDigital#GIF#ImAWizard#WhatDoIWin Social is fun. pic.twitter.com/B77S6rIsqt

— Leigh (@Leigh_BG) October 7, 2015
Lastly let's hear from our Industry Gurus / Partners:
Local Digital Marketing Executive – Kevin Wiles @kevwiles
It's an industry full of passionate and strongly opinionated people! #foreverlearning&testing #lovedigital @creare

— Kevin Wiles (@kevwiles) October 9, 2015
As well as Kevin, some of our other partnerships helped spread the word and gave their opinion via a blog post exclusive to Creare – 'Why Do Creare's Partner #LoveDigital' Â So, tell us why you #LoveDigital by tweeting us your photo @creare , get involved, join hands and start the #lovedigital train.