It's often thought that driving more traffic to your website is the best investment for your digital marketing budget.
Although I do agree that increasing the visibility of any website is important, sometimes we can impact our businesses more effectively by focusing on the conversion rates of our existing audience & traffic.
If you're not familiar with conversion rate optimisation (CRO),
It's the process of using data, best practice and common sense to increase the chances of your existing users converting into a sale, enquiry or buying more and increasing their average order value.
Most companies in the digital space can offer CRO as a product or service, often they'll use software on your site to understand user behaviour and make changes based on data, primarily using A/B testing to review call to actions, colours and layouts. This is standard practice and software such as Session Cam & Optimizley are great ways to get started.
Such testing does work, however, I think it's important to look at the conversion rate of a site a little more commercially. A/B testing might be able to drive a small increase in conversion by ensuring a 'buy now' button is the correct colour, but ultimately if your business falls down when compared to your competitors, the chances of dramatically increasing conversion is unlikely.
Below are my top focuses for conversion rates that are specifically targeted at business owners and not digital teams using software. These in theory should be things that are easily changeable from a content management system or in house, reducing the need for external support.
Price point – In the past we've increased the number of users to a site via digital marketing and they don't convert as expected. It's really important to challenge the price point of your product in comparison to other companies in the market place. Most users once they understand the product will spend time reviewing price points from multiple sites or sources.
Trustworthiness – Alongside price point, ensuring that a user feels confident making a purchase online and that the company they're purchasing from will be reliable is vital. It's hard to portray this successfully all the time, although ensuring your site design is up to date, includes industry accreditations, recognised brand mentions and customer reviews will all contribute to conversion rates. You can generate and accumulate reviews using a plugin or widget, we recommend reviews.co.uk for capturing merchant and product levels reviews to build trust across your website.
Language of content - Sometimes the content of a page can be overlooked, but take some time to put yourself in the eyes of your perfect customer and consider what information may be relevant. It's also a chance to qualify some of your audience, not all leads are good leads, so think about detailing the requirement from your customer or price qualify them prior to them picking up the phone. Remember to be clear, informative and as engaging as possible. Finally, make sure your spelling and grammar is perfect, it ensures a level of professionalism that can only be well received.
Access to information – Make sure your users have access to key information that may be relevant to their purchase. This includes delivery prices and timings, Terms and Conditions and Returns policies. We don't want to hide anything from our customers, this could also be another chance to vet any enquiries that might not be serious or that aren't at the purchase phrase of their journey.
With all this mind you should be able to affect the conversion of existing users, but how do you know whether you're doing well or not? Wordstream published a great article around conversion last year and in it they highlighted an average conversion rate based on their study, the results are shown in the table below: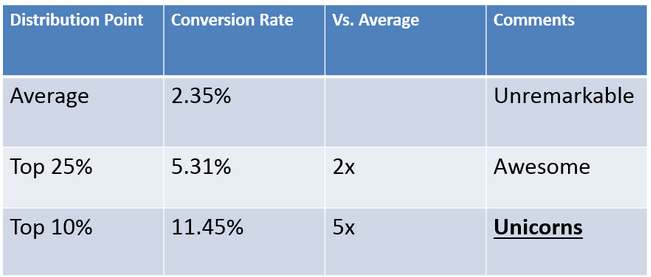 Don't panic if you're not quite achieving the average, take a view of your site based on the pointers above and work with your digital team to make the improvements needed. Ultimately it's good news, as you're now in a good position to possibly affect the performance by changing some basic components, without having to spend money on driving additional traffic – Bonus!
Key Take Aways:
Not everything that effects conversion rate is technical, apply a level of common sense.
Think Big – Big changes = Big Gainz
Think about the opportunity to qualify your audience to get the right type of enquiry.
My final thought, don't expect to get this right first time, every time. It is something you need to spend time refining and testing.