Since starting your business you're likely to have made a number of valuable connections through networking. However, we often overlook the value that these relationships can provide in the digital space.
Here are five ways to use your connections to boost your digital presence:
1. Ask Your Clients for Reviews
Quick question. Which of the following plumbers stands out the most?
Naturally, our eyes are drawn to the business with the highest number of quality reviews. Without even contacting 'J S Gas & Plumbing' we already trust them more than the others.
Reviews are a huge part of the online decision making process.
Utilise your existing customers to build up a number of quality reviews to ensure you appear favourably against your competition.
Ask them in person or email your satisfied customers with a link to your review page.
Quick Tip:Â Getting at least five Google+ Reviews brings up the stars in Google search – this can greatly improve the chances that people will click through to your website.
Relevant to:Â Customers and Clients.
2. Gain Testimonials from Loyal Customers

When approaching a business for the first time, consumers can often be skeptical about whether or not to trust a brand.
Testimonials bring an external voice to the decision process and can help potential customers to overcome any doubt they may have about the product or service.
Approach your most valuable customers and ask them to write a testimonial for your product or service – placing this strategically on your website will bring an increased level of trust to you and your brand.
Quick Tip:Â If you've personally been working closely with a contact, also ask them to leave you a LinkedIn recommendation to boost your personal credibility.
Relevant to:Â Customers and Clients.
3. Collaborate with Contacts to Enhance Your Content Strategy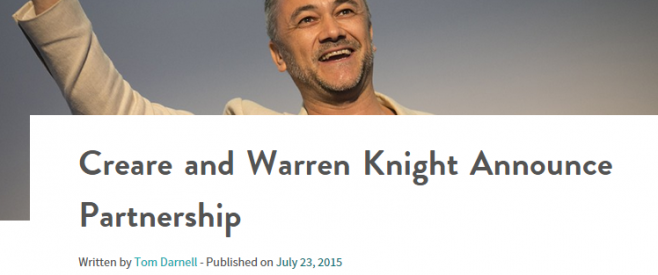 When creating content to be posted on your website and blog, consider getting some input from your business contacts.
Here are some ways of collaborating with your connections:
Interview a customer, partner or supplier to form a unique and interesting blog post
Ask for some quotes to support your content
Run a survey across your business contacts and use the data in a post
Getting your business contacts involved in your content strategy does three things:
Gives your content some credibility and support from a third party
Gives them exposure to your audience which enriches your existing relationship
Creates an attachment between them and your content which makes them more likely to share it with their audience
Quick Tip: Collaborate with business contacts who have large social followings to maximise the reach of your content.
Relevant to:Â Customers and Clients. Suppliers. Industry Contacts.
4. Earn Links from Your Business Contacts

If you are running an SEO campaign then you'll know that building hyperlinks back to your website is an important factor in improving your rankings.
Building quality, relevant links can be difficult and time consuming. This is where your existing network comes in:
Visit the websites of your business contacts and look for relevant webpages on their site where you or your brand could be mentioned.
Outreach to your contact and ask them if they would consider adding you, your brand or your commentary to their site
Quick Tip: Adapt your approach to each website that you contact. You could write an article for their site, provide some images to their existing blog posts etc.
Relevant to:Â Suppliers. Industry contacts. Event Hosts. Industry Bodies.
5. Write Testimonials for Your Suppliers

Writing a testimonial for a supplier not only helps them to grow and enriches your relationship but it also has direct benefits to you as the reviewer:
Being listed on their website gives you exposure to the supplier's audience
This often creates a hyperlink back to your website to support the SEO campaign
Approach your suppliers and ask them if they would like you to write a testimonial to add to their website.
Be detailed and genuine when writing your testimonial to improve the chances it will be published, the best testimonials share the key benefits that you receive from the supplier.
Quick Tip: Try to include a link a link back to your own website somewhere in the testimonial.
Relevant to:Â Suppliers.
How else have you used your business relationships to benefit your business online? Let us know in the comments below, or tweet us @creare.