Why Choose Creare?
As early adopters of Magento, we specialise in Magento CE for small businesses. Our in-house team have over five years experience transforming the online retail presence of SMBs.
120+ in-house team, established in 2006
Bespoke design, no templates!
Dedicated project manager
Specialism with Magento SEO
Full support and training
We don't just build stunning, bespoke Magento website for our clients, we also offer digital marketing, video production and hosting tailored to maximise performance with Magento CE.
Our People Your Team
We invest heavily into training, best practice and industry standards. Our creative team currently includes 10 certified Magento professionals and counting!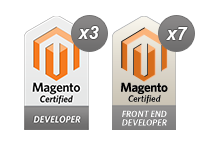 Over the years our talented team have not only mastered Magento Community Edition, but authored books and award nominated extensions that harness the power of Magento.
http://www.simplyweddinggifts.co.uk